New Blu-rays for August 28, 2012: A Rich HD Harvest of TV Series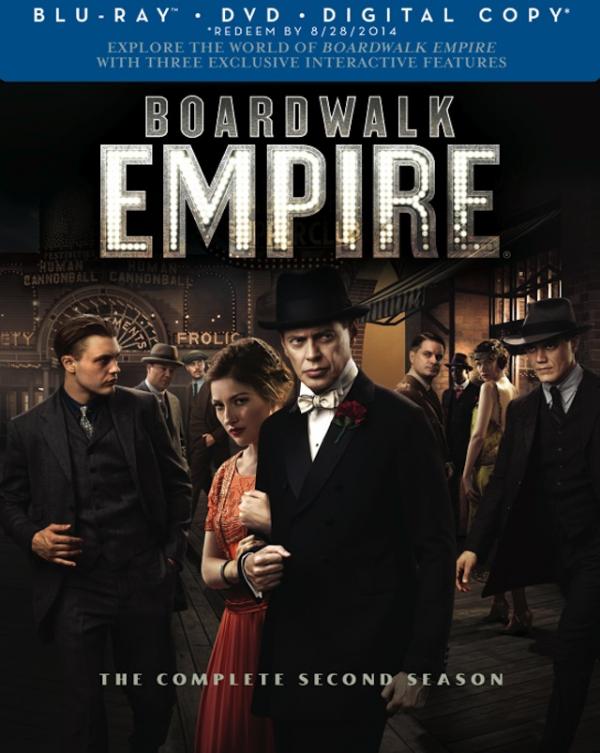 Boardwalk Empire: Season 2
"After you get what you want you don't want what you wanted at all." A great sense of loss runs throughout Boardwalk Empire, the Terence Winter-created, Martin Scorsese-executive produced gangster series set in Atlantic City of the Roaring Twenties. That loss haunts its characters, driving them on to do terrible things in an attempt to make up for past physical and emotional deprivations. But the desperate need for success means that their achievements remain emotionally unfulfilling, and the acts they're forced into committing take a huge toll on their humanity. At the end of Episode 1 of Season 2, that same music is playing as Jimmy (Michael Pitt) packs away a statue of a boy fishing with a protective father figure that to him represents his old relationship with Nucky (Steve Buscemi), gangster-politician ruler of Atlantic City. Jimmy is literally trying to put away his childish things in order to be a part of the organizing of organized crime, but, as for the rest of the characters, there's no escaping the past.
The slightly grainy, cinematically composed images are lit to create a gorgeous chiaroscuro, giving them a very film-like look. The crisp, in-depth compositions have enormous detail in fore-, mid-, and backgrounds despite half or more of each image being in deep shadow. Patterns of ties, garish checkered, striped, and herringboned suits, as well as well-earned lines on faces, are all distinctly visible. Excellent contrast produces inky blacks, bleached white collars, bright, rich colors, and wide ranges of subtly different tones. All this creates great volume and solidity to figures and faces and dimensionality to the whole picture.
The great jazz and blues soundtrack is terrific in 5.1 channels - clear, open, full, and nicely surrounding. Effects, such as a telephone ringing, teeth rattling across the floor from a kicked-in mouth, or the death rattle of someone drowning in their own blood from a cut throat are exceedingly natural and the colorful dialogue is always clean and resonant. There's often a seeming leaking from other rooms, apartments, and exteriors of barely audible music, cries, dog barks, and car engines that really help sell the reality of the environments.
Season 2 of this fine, addictive series comes in a 5-Blu-ray and 2-DVD set.
Video: 1.78:1. Audio: DTS-HD Master Audio 5.1. Extras: six commentaries with cast and crew including Terence Winter, Tim Van Patten, Howard Korder, Allen Coulter, Buscemi, Jack Huston, Michael Kenneth Williams, and Gretchen Mol, "Living in 1921" interactive guide, "Secrets of the Past: Storytelling in Episode 11," "The Money Decade," "Updates to the Boardwalk," and "New Characters" featurettes, character dossier, "Back to Boardwalk"15-minute recap; DVD and UltraViolet digital copy for streaming/downloading. Studio: HBO
Sons of Anarchy: Season 4
The Walking Dead: Season 2
Once Upon a Time: Season 1
Homeland: Season 1
Here are four more highly popular, critically-acclaimed, and award-winning hit TV series being released this week allowing for simultaneous multiple multi-episode binges to add to your Boardwalk Empire blitz.
Sons of Anarchy: Season 4: The renegade small-town California criminal biker gang, Sons of Anarchy Motorcycle Club, having returned from their stay in the pen, are back in business illegally importing, modifying, and selling weapons to other gangs and acting as guards on truck shipments for local businesses. At the same time they must protect their territory while dealing with internal divisions that threaten to tear the gang apart amid the usual chaos, corruption, betrayal, and murder. All 14 Season 4 episodes of this dark drama, created by Kurt Sutter and starring Charlie Hunnam, Ron Perlman, Katey Sagal, Kim Coates, and Mark Boone Jr., arrive in a three-disc set with plentiful extras.
The Walking Dead: Season 2: Developed for television by Frank Darabont from the comic book series by Robert Kirkman, The Walking Dead is the story of a small group of survivors of a zombie apocalypse traveling across the United States in search of a new home away from the rambling, shambling deadheads. Having awoken from a coma to find the country devastated and then tracked down his family near the overrun Center for Disease Control (CDC) in Atlanta, Rick Grimes (Andrew Lincoln) must now lead the group to the supposedly safe CDC in Fort Benning, but the group is threatened by internal strife as much as the deadly "walkers." The series has a creepy 7.1-channel soundtrack and Season 2 comes as a four-disc set. A limited-edition release housed inside a zombie head is also available.
Once Upon a Time: Season 1: In this fantasy drama created by Edward Kitsis and Adam Horowitz, two of the writers/executive producers of Lost, Emma (Jennifer Morrison) finds her pleasant life in a sleepy New England town turned upside down when she suddenly has to deal with the arrival of 10-year-old Henry (Jared Gilmore), the son she'd given up for adoption as an infant. Things only get more upsetting when Henry reveals his theory that all the townsfolk are fairytale characters sent from the Enchanted Forest and trapped in present-day Storybrooke, Maine by the curse of the Evil Queen. And even more so when it turns out that Emma is the long-lost daughter of Snow White (Ginnifer Goodwin) and Prince Charming (Josh Dallas) and that only she can save them all. The 22 episodes of Season 1 come in this 5-disc set.
Homeland: Season 1: When POW war hero, Marine Sgt. Nicholas Brody (Damian Lewis), is rescued and brought back to America, brilliant CIA operative Carrie Mathison (Claire Danes) begins to suspect that he may be an Al Qaeda sleeper agent plotting a terrorist attack. Although Mathison's investigation threatens to destroy everything she holds dear, her instincts force her to keep on attempting to uncover the truth about Brody. The multiple layers, twists, and clues of this suspense drama constantly turn reality on its head, necessitating multiple viewings and inter-fan discussion. Hailed from the get-go, Homeland: Season 1 went on to win the 2012 Golden Globe for Best Television Series (Drama) and Best Actress (Danes). It appears in a three-disc set.
All, Video: 1.78:1. Homeland, Anarchy, and Time, Audio: DTS-HD Master Audio 5.1. Dead, Audio: Dolby TrueHD 7.1. Homeland, Extras: commentaries on selected episodes, "Under Surveillance: Making Homeland" featurette, Season 2 prologue, deleted scenes. Studio: 20th Century Fox. Anarchy, Extras: extended versions of four episodes with commentaries, four behind-the-scenes featurettes, deleted scenes, gag reel. Studio: 20th Century Fox. Dead, Extras: five commentaries "All the Guts Inside," "Live or Let Die," "The Meat of the Music," "Fire on Set," "The Ink is Alive," "The Sound of the Effects," "In the Dead Water," "You Could Make a Killing," "She Will Fight," "The Cast on Season 2," and "Extras Wardrobe" featurettes, six high-def Webisodes with optional commentary with writer/director Greg Nicotero, 30 minutes of deleted scenes with optional commentary. Studio: Starz/Anchor Bay. Time, Extras: five episode commentaries, "Fairy Tales in the Modern World," "Building Character," "Welcome to Storybrooke!," "The Story I Remember . . . Snow White," and "Once Upon a Time: Origins" featurettes, bloopers, nine deleted scenes. Studio: Disney.
The Lucky One
After going to pick up a photograph he sees glinting in the sun, U.S. Marine Sergeant Logan Thibault (Zac Efron) sees the spot he was previously standing in blown to pieces by mortar fire - along with his buddies. After returning from his third tour of duty in Iraq, Thibault travels to North Carolina in search of the woman in the photograph he believes had saved his life. Discovering her name - Beth (Taylor Schilling) - and address, he goes to visit and ends up with a job at the kennel she runs with her grandmother (Blythe Danner). Romance inevitably develops, but Beth's ex and the father to her son, Sheriff Deputy Clayton (Jay R. Ferguson), himself the son of the town's judge and would-be mayor, is a jealous and powerful enemy. Nicholas Sparks' novel, The Lucky One, was adapted by screenwriter Will Fetters and directed by Scott Hicks (Shine).
Video: 2.40:1. Audio: DTS-HD Master Audio 5.1. Extras: "Zac Efron Becomes a Marine," "Watch The Sparks Fly - The Romantic World of The Lucky One," and "Zac and Taylor's Amazing Chemistry" featurettes; DVD and UltraViolet digital copy for streaming/downloading. Studio: Warner.
Battleship
Batten down the hatches as a charmingly-rebellious-yet-eminently-capable young officer on the verge of washing out of his naval post suddenly finds himself in charge of the fleet in Hawaii - and the fate of the human race after Transformers-like alien spaceships appear.
Battleship, based on the Battleship game, is a non-stop round of all-channel mayhem with things constantly exploding, shooting, or flying overhead with overwhelming, throbbingly bassy booms and blastings rattling around every channel along with pumped-up LFE-heavy music until you raise the white flag.
The picture has a highly-detailed, gritty look with distinct navy insignias on lapels, names on maps, and a web of lines on Liam Neeson's brow as he scowls and looks pained at the thought of what he's doing. Faces throughout are rounded, having volume and dimension. Contrast is good, the reds and blues of American flags rich, navy whites bright, and blacks deep.
Video: 2.40:1. Audio: DTS-HD Master Audio 5.1. Extras: All Access with director Peter Berg in PIP with behind-the- scenes background footage, interactive Second Screen Experience for tablet or PC available after downloading the pocket BLU app and syncing it with the film, alternate ending previsualization animation, USS Missouri tour, "Preparing for Battle," "All Hands on Deck: The Cast," "Shooting at Sea," "All Aboard the Fleet," "Commander Pete," and "The Visual Effects" featurette; DVD and UltraViolet digital copy for streaming/downloading. Studio: Universal.
Harvey
Director Henry Koster's 1950 film of Mary Chase's Pulitzer Prize-winning play stars James Stewart, in one of his best-loved performances, as Elwood P. Dowd, a good-natured, well-liked, middle-aged social outcast living in a small-town community. Elwood's best friend is an invisible six-foot rabbit called Harvey. When Elwood's socially-embarassed sister (Josephine Hull) tries to have her brother committed to a mental institution, Elwood (and Harvey) help bring everyone round to his way of seeing things, teaching them to be tolerant of eccentricity and celebrate Dowd's and their own imaginations.
Video: 1.37:1. Audio: DTS-HD Master Audio 2.0. Extras: introduction by Stewart with photographic montage, "The Carl Laemmle Era" and "The Lew Wasserman Era" featurettes, production notes; DVD and digital copy." Studio: Universal.
LATEST VIDEO