New Blu-rays for August 14, 2012: Just When You Thought It Was Safe to Go Back in the Water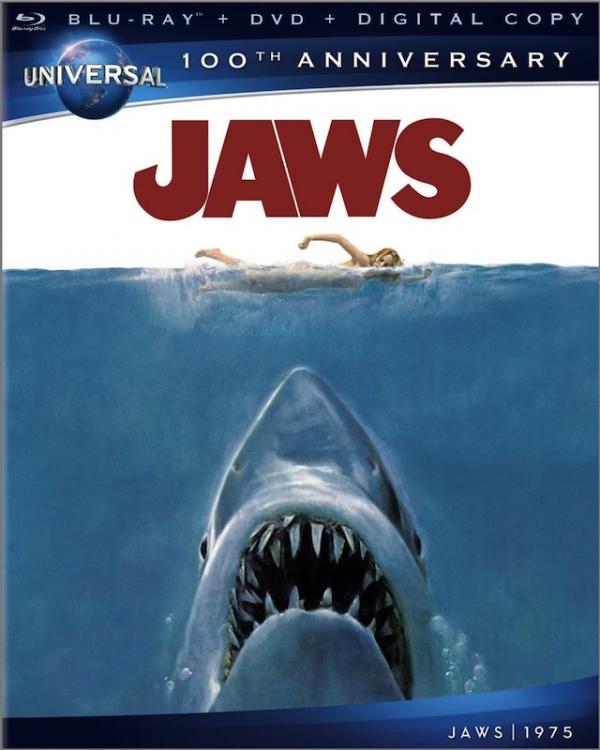 Jaws
The arrival of a giant man-eating great white shark on the shores of a New England beach resort in 1975 and its cruise out of the universal unconsciousness and through the international zeitgeist from was a historical and game-changing event. Director Steven Spielberg (then 28) broke box offices with his adaptation of Peter Benchley's novel, which made him a household name throughout the world and - for better or worse - brought us the summer blockbuster. And now, just when you thought it was safe to go back in the water. . .
In this new 2.35:1 transfer, struck from a recent restoration of the original camera negative supervised and approved by Spielberg, contrast is excellent, colors subtly rich and distinct with black levels that are true. Images are sharp, with detail from front to back of the in-depth beach compositions, which have great clarity.
Initially, most of the action in the 7.1-channel soundtrack is up front, with minor atmospherics in the surrounds. Once the hunt is on, though, the side surrounds and rear channels come to center stage, too, immersing you in John Williams' iconic, Oscar-winning score, reinforcing and agitating the suspenseful mood. Voices are clear and the brittle clicks from the fishing-rod reel literally ratchet up the tension and make your stomach tight. It's a very clear, open, wide-dynamic-ranging cinematic sound and the whole film works on Blu-ray in a way it never did on DVD.
Video: 2.35:1. Audio: DTS-HD Master Audio 7.1, DTS Mono. Extras: "The Shark is Still Working: The Impact and Legacy of Jaws" feature-length documentary, "Jaws: The Restoration" featurette, "The Making of Jaws" and "From the Set" vintage featurettes; DVD and UltraViolet digital copy for streaming/downloading. Studio: Universal.
Les Vampires
Writer-director Louis Feuillade, a master of crime-serial films such as Fantômas and Judex, was known for his memorably colorful characters and fantastic, labyrinthine plots. He made this ten-episode, near-seven-hour silent epic classic in 1915, in the process creating a masterpiece which would go on influencing filmmakers for generations to come.
Crime-fighting journalist Philippe Guerande (Edouard Mathe), with the aid of amusing sidekick Mazamette (Marcel Levesque), attempts to infiltrate and expose a vast secret society of thieves in Paris known as The Vampires, including the graceful and seductive black-clad assassin called Irma Vep (Musidora).
The transfer on this two-disc set was taken from the 1996 35mm restoration by the Cinematheque Francaise; the new music score (for piano and small orchestra) is by the Mont Alto Motion Picture Orchestra.
Video: 1.33:1. Audio: LPCM 2.0 Stereo. Extras: trailer for Feuillade's Fantomas. Studio: Kino.
The Royal Tenenbaums
In Wes Anderson's melancholy comedy, The Royal Tenenbaums (2002), Royal Tenenbaum (Gene Hackman) and his wife Etheline (Anjelica Huston) have three exceptional children, and then one day Royal Tenenbaum ups and leaves. The three prodigies grow up to bcome real estate and financial wiz Chas (Ben Stiller), playwright Margot (Gwyneth Paltrow), and tennis star - turned complete failure - Richie (Luke Wilson). After Royal's life also collapses, he returns to his wife to announce that he has only has six weeks left to live. Etheline, meanwhile, has taken up with their former accountant, Henry (Danny Glover). This strange mélange of Anderson's oddball characters and his direction inspired some exceptionally brilliant and idiosyncratic performances by all the talents concerned, including an equally memorable turn by Alec Baldwin as the narrator. Criterion's usual great transfer is ably supported by a killer collection of extras.
Video: 2.35:1. Audio: DTS-HD Master Audio 5.1. Extras: writer-director'scommentary, behind-the-scenes featurette with extensive footage of the production process, interviews with cast members, two deleted scenes, episode of The Peter Bradley Show centered on the cast, book and magazine covers, details from Richie Tenenbaum's bedroom murals illustrated by Eric Anderson, excerpts from the director's annotated script, Richie's photographs of Margot with paintings by Eric Anderson, Public Radio International's Studio 360 segment on artist Miguel Calderon whose paintings hang in Eli Cash's apartment and a selection of his works, photographs by set photographer James Hamilton, insert with Eric Anderson's drawings of the Tenenbaum house and an essay by film critic Kent Jones. Studio: The Criterion Collection.
Dexter: The Sixth Season
Criminologist and loveable grisly serial killer of serial killers Dexter (Michael C. Hall) continues his struggle to be all he can be while at the same time single-handedly raising his young son after his wife's murder by yet another serial killer. In addition, Dexter takes it upon himself to track down the new kid on the block - "The Doomsday Killer" - who, acting in the belief that The Apocalypse is nigh, is terrorizing Miami with murders based upon prophecies in the Book of Revelations. This three-disc set of the hugely popular TV series contains all 12 sixth-season episodes and is accompanied by six episodes of other hit Showtime shows.
Video: 1.78:1. Audio: Dolby TrueHD 5.1. Extras (via BD-Live): Borgias Season 2 Episodes 1 & 2, Californication Season 5 Episodes 1 & 2, House of Lies Episodes 1 & 2, interviews with cast members Hall, Colin Hanks, C.S. Lee, David Zayas, Desmond Harrington, Jennifer Carpenter, and Lauren Vélez. Studio: Paramount.
La Promesse, Rosetta
La Promesse and Rosetta, two of the most internationally famous features to come out of Belgium, were made by filmmaking brothers Luc and Jean-Pierre Dardenne who, after developing their talents shooting documentaries, came to world fame directing raw, intense vérité dramas (set in their industrial hometown of Seraing) that offered a compassionate look at the denizens of society's lower depths. La Promesse (1996) is a drama about Igor, a teenage boy (Jérémie Renier) whose father runs a hostel. The boy's innocent belief in basic goodness is challenged by his discovery that his father is exploiting and swindling the illegal immigrants he shelters.
Rosetta (1999), winner of the Palme d'Or at Cannes, tells of a desperately impoverished 17-year-old Italian girl (Émilie Dequenne) who lives in a trailer park on the outskirts of a small Belgian town and her obsessive struggle to keep her job to create a life for herself and to support her alcoholic mother.
La Promesse, Video: 1.66:1. Audio: French DTS-HD Master Audio 5.1. Extras: conversation between film critic Scott Foundas and the Dardennes, new interview with actors Renier and Olivier Gourmet, booklet featuring an essay by film critic Kent Jones. Rosetta, Video: 1.66:1. Audio: French DTS-HD Master Audio 2.0. Extras: conversation between Foundas and the Dardennes, new interview with actors Dequenne and Gourmet, booklet featuring an essay by Jones. Studio: The Criterion Collection.
Bye Bye Birdie
Elvis Presley's induction into the army in 1958 was turned by writer Michael Stewart into a hit musical play, in which a rock star's personal appearance in a small town to kiss a selected high-school fan goodbye causes chaos. The 1963 movie, directed by George Sidney (Viva Las Vegas), stars Jesse Pearson as the rock idol, Dick Van Dyke as a struggling songwriter with a domineering mother (played by Maureen Stapleton), Janet Leigh as a girlfriend frustrated with waiting for marriage, Paul Lynde as the father of the fan, Bobby Rydell as her jealous boyfriend, Ed Sullivan as Ed Sullivan, and Ann-Margret as the obsessed girl, in a peppy, innocent, sweet sex-kitten performance that turned the 22-year-old screen newcomer into a star. And with songs like "Put On a Happy Face," "Got a Lot of Livin' to Do," "Bye Bye Birdie," "The Telephone Hour," "How Lovely To Be A Woman," and "Kids!," which became standards, the film grew into a cult classic.
Video: 2.35:1. Audio: DTS-HD Master Audio 5.1. Extras: isolated song and music/effects track. Studio: Twilight Time.
LATEST VIDEO