NEC's New Blu-ray Chip
Anything that brings down the price of Blu-ray is a good thing. Anything that keeps them running just as efficiency while bringing down the price is better. Simple logic.
NEC just announced the EMMA3PF, the world's first chip that combines signal processors and memory that controls graphics, audio and other functions that is said will raise sales of NEC Blu-ray products to $378 million by March 2011.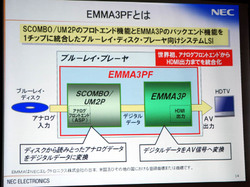 From Reuters: "We've gained an edge over our rivals with this chip," NEC Electronics Associate Vice President Shigeo Niitsu told reporters at a news conference. "We will do what it takes to keep pace with market price falls of 30 percent to 40 percent to keep our lead."
This new chip does everything that their current hardware does, but adds controls for the Blu-ray drive.
Shipments should start in September. NEC says this will be key for them to own 40% of the Blu-ray market by March, 2009 and half of the market by March, 2001.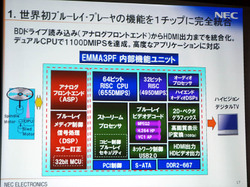 Progress is good. When Blu-ray players can sell for under $200, most people believe, Blu-ray is here to stay. With investments like this, companies like NEC already know it's here to stay. -Leslie Shapiro
Via Reuters
LATEST VIDEO
WHERE TECHNOLOGY BECOMES ENTERTAINMENT