MUSIC: Last Minute Shopping!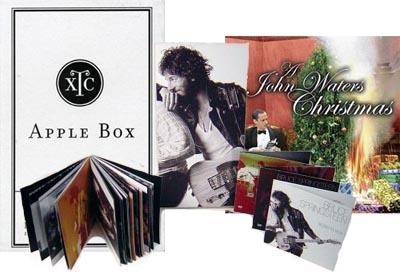 Need more than the boxes and Christmas discs we gave you? Clip this list and get nutcrackin'!
BOXES:
Bruce Springsteen's Born to Run: 30th Anniversary Edition (Columbia, 1 CD, 2 DVDs), with new remastering plus 1975 gig and more.
XTC's Apple Box (xtcidearecords.co.uk, 4 CDs), combining both volumes of Apple Venus with demos.
Rod Stewart's The Great American Songbook (J, 4 CDs), gathering all four volumes of standards.
Jelly Roll Morton's The Complete Library of Congress Recordings by Alan Lomax (Rounder, 8 CDs), from 1938.
Johnny Cash's The Complete Sun Recordings (Time Life, 3 CDs), 1955-58.
Barbra Streisand's The Television Specials (Warner, 5 DVDs), 1965-73.
King Crimson's 21st Century Guide, Vol. 2 (DGM, 4 CDs), 1981-2003.
The Motown Box (Motown, 4 CDs), including 30 new stereo mixes.
Allan Sherman's My Son, the Box (rhinohandmade.com, 6 CDs), with all of the satirist's Warner Bros. recordings.
And Live 8 (Capitol, 4 DVDs), uncut by MTV.
HOLIDAY CDs:
New titles by Brian Wilson, Regis Philbin, Odetta, the Marshall Tucker Band, the LeeVees (Hanukkah Rocks), and Charlie Brown (Monster Cable's 5.1 SuperDiscs of original and 40th-birthday versions). Also, various-artist sets from Elton John and ... John Waters!
Baby, it's hot inside!
LATEST VIDEO
WHERE TECHNOLOGY BECOMES ENTERTAINMENT