Mitsubishi WS-55813 55-inch Rear-Projection HDTV
With the proliferation of flat-panel LCD and plasma televisions, plus all the rear-projection models using LCD, DLP, and even LCoS technologies, it's easy to overlook the good ol' cathode ray tube, or CRT.
There are still more than a few thoughtful souls, however, who take a look at the high price tags of plasma, LCD, and the rest of the options, then buy a big-screen tube TV for half the price and laugh all the way to the bank. Sure they may spend a lot of time fielding the question, "Why didn't you get a plasma?" But the answer's plain enough every time they switch on their sets. In video, picture quality is all about the blacks, and CRTs produce the deepest blacks of any display technology, period.
Mitsubishi's WS-55813, a 55-inch widescreen rear-projection HDTV that lists for $4,499, is no exception. The smaller of the company's two Diamond-branded sets, it comes with scads of features, including a built-in HDTV tuner for over-the-air digital broadcasts and a QAM tuner that can decode high-def programs delivered by some cable systems. It looks good, too, at least for a big box.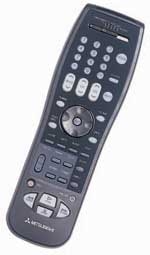 Mitsubishi employs lots of glossy black plastic and subtle shaping to achieve its distinctive modern look. A narrow border around the screen enhances its appearance. This TV doesn't need a stand to reach eye level - its wheeled base put the center of the screen at a comfortable viewing height when I sat on my couch.
The large remote control fit comfortably in my hand, although some people may have to stretch to reach every button. I liked both the backlit keypad and the dedicated "device" rocker switch that cycled through the numerous inputs. It can also control up to four other devices, but most folks will probably opt to use Mitsubishi's NetCommand system instead.
LATEST VIDEO