Mitsubishi WD-52525 52-inch DLP HDTV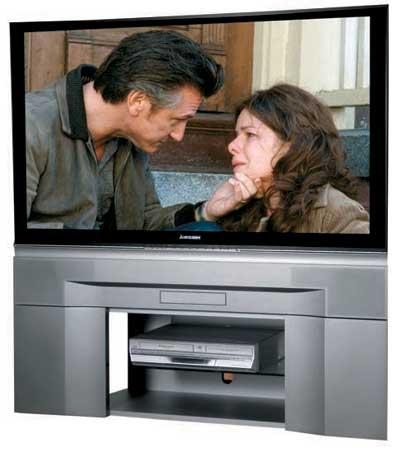 The hottest-selling HDTVs right now are big-screen rear-projection sets, a category that's still dominated by the relatively cheap, time-tested cathode-ray tube (CRT). But the new "microdisplay" TVs are gaining fast. These tubeless sets use DLP (Digital Light Processing), LCD (liquid crystal display), or LCoS (liquid crystal on silicon) chips driven by a replaceable lamp to produce brighter and consistently sharper images than just about any tube-based projection design.
Mitsubishi's WD-52525 uses DLP technology and is aimed at buyers who want a versatile, future-ready television and don't mind paying extra for it. Although at $4,199 it's Mitsubishi's least expensive 52-inch DLP model, the WD-52525 still costs a few hundred dollars more than other 50- to 52-inch DLP sets on the market. But you get a built-in HDTV tuner and a couple of unique features - Mitsubishi's ColorPerfect controls and NetCommand system.
Fast Facts
DIMENSIONS (WxHxD) 49 5/8 x 37 1/4 x 17 3/8 inches WEIGHT 132 pounds PRICE $4,199; matching stand, $299 MANUFACTURER Mitsubishi, mitsubishi-tv.com, 800-332-2119
Key Features
• 52-inch (diagonal) 16:9 screen • HD2+ DLP chip • Digital Cable Ready with CableCARD slot • Built-in digital TV tuner • front inputs FireWire; composite/S-video with stereo audio; 4 flash-memory slots • rear inputs CableCARD; 2 FireWire; HDMI; VGA; 3 wideband component video (one also RGB+H/V), 2 composite/S-video, all with stereo audio; 2 digital/analog antenna/cable; RS-232C serial port • rear outputs composite video with stereo analog audio; coaxial digital audio
Turned off, the WD-52525 presents a classy expanse of black with chrome accents above a swath of silver. The pane of acrylic covering the screen tends to reflect a fair amount of ambient room light, but you can remove it. An A/V input and four digital photo-card slots are hidden behind a silver front-panel door.
Compared with traditional CRT televisions, DLP sets are relatively compact and usually weigh considerably less. The WD-52525 is a tabletop design that's only 17 inches deep, but at 132 pounds, it's heavier than most similar-size DLP and LCD sets.
SETUP When I turned on the WD-52525, a screen invited me to step through setup for the NetCommand system, which enables the TV to directly control other A/V components via infrared (IR) emitters and onscreen menus. Giving it a try, I was prompted to select my A/V gear from a list and indicate my input arrangements. Then I affixed the supplied emitters to the IR windows on my DVD player and A/V receiver so they could receive commands from the TV.
LATEST VIDEO