Mirage Nanosat Home Theater Speaker System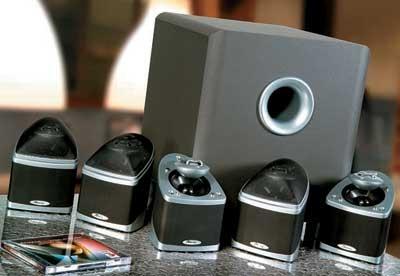 While the satellite speakers in Mirage's Nanosat system aren't actually made with cutting-edge nanotechnology, they are extremely small by any ordinary standard - less than 6 inches high and just over 4 inches wide and deep. That's even smaller than the Omnisat Micro, previously the most compact speaker using the "omnipolar" technology pioneered in the Omnisat 6 system that won a Sound & Vision Reviewer's Choice Award in 2003.
Fast Facts
DRIVER COMPLEMENT Nanosat (satellite), 3/4 -inch dome tweeter, 2 3/4-inch cone midrange Nano Sub (subwoofer), 8-inch cone ENCLOSURE Nanosat, sealed; Nano Sub, ported SUBWOOFER POWER 75 watts INPUTS and CONTROLS Nanosat, multiway binding posts; Nano Sub, speaker- and line-level inputs, level knob, on/auto/off toggle DIMENSIONS (WxHxD) and WEIGHT Nanosat, 4 1/4 x 5 3/4 x 4 3/8 inches, 2 3/8 pounds; Nano Sub, 11 3/4 x 13 1/2 x 13 1/2 inches, 20 pounds FINISH Nanosat, black and silver, silver, or white; Nano Sub, silver or white PRICE $800; additional Nanosats, $125 each; MS-STB-1 floor stand, $70 a pair MANUFACTURER Mirage, miragespeakers.com, 416-321-1800
Like a megabuck system with bipolar towers or dipole surround speakers, the omnidirectional Nanosats promise to immerse you in a sea of sound from a good DVD movie or multichannel music recording - but for substantially less than a thousand bucks. And unlike most other speakers, the tiny Nanosats fit virtually anywhere: on small shelves, atop a TV with a narrow bezel, on the wall, or on slender optional stands. If you want 6.1 or 7.1 channels, additional satellites are $125 apiece.
Under the removable metal grille, each Nanosat has a tiny titanium-hybrid tweeter mounted in Mirage's proprietary Omni-guide dispersion system. The assembly looks like a Lilliputian flying saucer hovering over the small "woofer," which fires upward at about a 30° angle. The sound is said to radiate in all directions, with roughly 30% directed at the listener and 70% reflected off the walls.
The system includes the Nano Sub subwoofer, barely larger than a cubic foot and downward-firing with a metallic front port. Large, sturdy feet keep it properly spaced from the floor. Mirage also applies some pat-ented technology here. The driver's Elliptical Surround - the flexible ring that binds the 8-inch cone to the outside edge of the frame - has expansion-control ribs designed to reduce distortion and increase output.
SETUP Mirage provides precious few setup instructions in the multilingual booklet that comes with the Nanosat system. The satellites have gold-plated binding posts and wall-mounting brackets that must be removed to use the optional floor stands.
Since Mirage designed the Nano Sub for the Nanosat system, there's no crossover-frequency control. It's already set with the right crossover frequency, which makes the system a lot easier to set up than the typical six-piece speaker system that comes with a multipurpose sub. (A standalone Nano Sub with crossover and phase controls is available separately.)
I used the floor stands for the left and right front speakers, placing them a few inches to either side of my 42-inch wide-screen TV, and put the center on top of the TV and the surrounds atop bookcases behind me. I placed the sub near the wall beside the TV.
LATEST VIDEO