Midget Screens Loom Large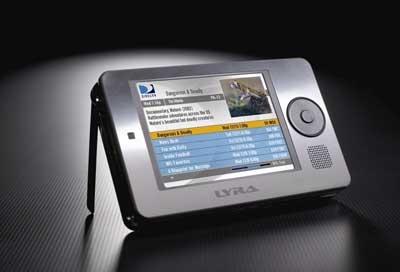 RCA's Lyra X3000 portable video player
Between the introduction of a bevy of handheld video players and the unveiling of content services that make it much more convenient to transfer programs and movies into them, CES seemed to accelerate the trend to watching video on tiny screens when you're away from home. Some players use hard drives, others flash memory. Some transfer content from a satellite receiver, others a computer, and still others a cell phone network.
RCA announced the Lyra X3000, a $399 player weighing less than 8 ounces that stores video, music, and photos on a hard drive capable of holding 40 feature-length films. The player, which incorporates a 3.6-inch screen, is available now, and you can use it to transfer video at high speed from a computer or to record from any video source through its A/V input. But its most exciting feature won't be implemented until later this year, when you'll be able to make high-speed digital transfers from some DirecTV DVRs in a service called DirecTV2Go. That would put DirecTV on par with Dish Network, which last year began offering three PocketDish models that do essentially the same thing.
LG Electronics, meanwhile, showed its first Portable Media Center, the PM70, a 30-gigabyte player that synchs with Windows Media Center computers to store up to 50 hours of TV shows, movies, or music videos. The player has a 4.3-inch widescreen display. Unlike previous PMCs, the LG can also record directly from another device through an A/V input. And it synchs with Microsoft Outlook, a first for a PMC. It will be available this spring for $549.
Though CES is primarily a hardware show, it's also a venue for content-service announcements. This year video-in-demand services ruled. Starz, the cable/satellite movie channel, announced a video download service called Vongo ("video on the go") for Windows PCs. Broadband PC users will be able to download as many movies, concerts, and other programs as they want from a library of about 900 titles for $9.99 a month or, without a subscription, $3.99 per movie. The service uses Microsoft's Digital Rights Management (DRM) scheme, and you'll be able to transfer the Vongo content into portable players, including LG's PM70.
Google introduced Google Video Store, which includes a deal with CBS in which computer users will be able to download classic shows such as I Love Lucy for unlimited viewing at $1.99 per episode. Current series, such as CSI: Crime Scene Investigation, will be priced the same but limited to 24 hours of viewing. Google Video Store, which uses Google's own DRM scheme, could become a serious competitor to Apple's iTunes Music Store, which already offers several current series from ABC.
Check out more CES news. Back to Homepage What's New on S&V
LATEST VIDEO