Merry Krimble!
What? You think it's too late for my guide to the season's holiday CDs? HUMBUG! That's why they made Twelve Days of Christmas, Rudolph!
After all, just ask the artist who has the biggest-selling CD of 2007. Springsteen? Kanye? Eagles? Those High School Musical kids? No, it's Josh Groban! His holiday CD, Noël (143/Reprise), has just become the first Christmas album ever to top the charts for 4 weeks in a row. Total sales so far: 2.77 million. It's a collection of the usual faves, from "Silent Night" to "O Come All Ye Faithful."
But if you're looking to get something different from what all the massive faithful are buying, you've come to the right place. Have I listened to all of the discs below? Of course not! Just check out the names/titles (in alphabetical order), scan the blurbs, and dive in!
-Ken Richardson
First, a few songs I have heard on high - meaning, from the Internet. And you can download 'em for free:
Nellie McKay: "Take Me Away" and "A Christmas Dirge." Go to nelliemckay.com.
The Soundtrack of Our Lives: "The Return of the Christmas Piper
(X-mas X-mas Uber Alles!)": Go to tsool.net or, if that doesn't work, www.myspace.com/officialtsool.
Then there are two other singles I haven't heard, both available via iTunes:
Cass Dillon: "Christmas in Fallujah": Written by Billy Joel (in response to letters he received from soldiers), given to a young Long Islander to sing.
The Killers: "Don't Shoot Me Santa": A benefit for the Global Fund to Fight AIDS.
Okay, on to the albums:
POP/ROCK/etc.
Yolanda Adams: What a Wonderful Time (Columbia): From the title track to "Jingle Bells" and "Little Drummer Boy."
Tony Bennett: Snowfall: The Tony Bennett Christmas Album (RPM/Columbia/Legacy): Reissue of classic 1968 album, now coupled with a five-track bonus DVD from his 1992 TV special.
Jim Brickman: Homecoming (SLG): Includes the hit "Coming Home for Christmas," with Lonestar's Richie McDonald.
Captain & Tennille: The Secret of Christmas (Moonlight & Magnolias): The secret is out: It's their very first Christmas album. (For more info in a previous post, click here.)
The Dan Band: Ho: A Dan Band Christmas (Reincarnate/ATO): Please note the Parental Advisory sticker! Please note some of the song titles: "I Wanna Rock U Hard This Christmas," "Get Drunk & Make Out This Christmas." You get the idea . . .
Celine Dion: These Are Special Times: Collector's Edition (Columbia/CMV/Legacy): Remaster of 1998 album, with a previously unreleased bonus DVD of the TV special of the same name.
Daryl Hall & John Oates: Home for Christmas (U-Watch/DKE). Wider release of last year's holiday album, which was their first.
Isley Brothers featuring Ronald Isley: I'll Be Home for Christmas (Def Soul Classics/Island Def Jam): Despite the "Classics" imprint, this is not a reissue (I was confused, too). Rather, it's brand-new - and it's their first holiday album. With two tracks co-written by executive producers Jimmy Jam & Terry Lewis.
Jars of Clay: Christmas Songs (Gray Matters/Nettwerk): Yet another Christmas debut, with the Christian rockers doing their (good) thing on both covers and originals.
Patti LaBelle: Miss Patti's Christmas (Def Soul Classics/Island Def Jam): Like the Isleys' album, this one is executive-produced by Jimmy Jam & Terry Lewis, who co-wrote four numbers.
Larry the Cable Guy: Christmastime in Larryland (Warner Bros.): "All-new material . . . based on an old-time radio show."
Darlene Love: It's Christmas, Of Course (Shout! Factory): But it's not the usual Christmas stuff. Instead, on this set of new recordings - her first full holiday album, amazingly - she covers the likes of XTC, the Pretenders, James Brown, Tom Petty, and John & Yoko.
Raul Malo: Marshmallow World & Other Holiday Favorites (New Door/UME): Recorded live in the studio, the ex-Maverick tackles standards from "Jingle Bells" to "Feliz Navidad."
Mannheim Steamroller: Christmas Song (American Gramaphone): Doesn't Chip Davis ever run out of New Age-y holiday ideas? Guess not!
Nassiri: Holiday Collection (www.nassiri.com): Three tracks in World Music garb.
Jacqui Naylor: Smashed for the Holidays (Ruby Star): Not exactly what you think. Others do mash-ups; Jacqui does "acoustic smashing," singing a holiday standard while her band plays a rock tune. Here, we get "Santa Claus Is Coming to Town" over "Sweet Home Alabama"; "Santa Baby" over "D'yer Mak'er"; "What Child Is This?" over "Babe I'm Gonna Leave You"; and more! Plus normal stuff.
Frank Sinatra: A Jolly Christmas from Frank Sinatra: 50th Anniversary Edition (Capitol): Remastered, with the 14 classics joined by a previously unreleased Sinatra public-service announcement for Christmas Seals.
Sissel: Northern Lights: An Evening with Sissel and Friends (Denon Classics): From the PBS TV special.
Sister Hazel: Santa's Playlist (www.sisterhazel.com): Standards and originals from the Gainesville band.
Michael W. Smith: It's a Wonderful Christmas (Reunion): Mostly new material by Smith, recorded at Abbey Road with an orchestra and four choirs.
Mindy Smith: My Holiday (Vanguard): Standards and originals, too, from the Nashville-by-way-of-Long-Island singer/songwriter.
Smithereens: Christmas with the Smithereens (Koch): They "reinvent the Christmas album and turn the genre completely upside-down!" Includes covers of the Beatles, the Who, the Beach Boys, the Ramones, the The (kidding!), and John & Yoko.
Staple Singers: The 25th Day of December (Riverside/Concord): Their 1962 album is reissued for the first time.
Keith Sweat: A Christmas of Love (Rhino): On his first holiday album, he'll "Be Your Santa Claus" if you put him "Under the Tree."
KT Tunstall: NBC Sounds of the Season: The KT Tunstall Holiday Collection (NBC/Capitol Music Group): Available only at Target stores, it includes "Mele Halihimaha (Christmas in Hawaii)" as well as a cover of the Pretenders.
Conway Twitty: A Twismas Story (www.conwaytwitty.com): "With Twitty Bird and their little friends." On this reissue of the storybook set to music, Twitty Bird is played by the singer's granddaughter.
Dionne Warwick: My Favorite Time of the Year (DMI/Rhino): Reissue of her first holiday CD, from 2004.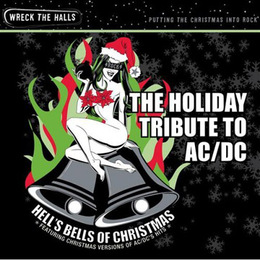 VARIOUS-ARTIST COLLECTIONS
. . . And Christmas for All: The Holiday Tribute to Metallica (Christmas Rock): The likes of "Master of Puppets" and "Fade to Black" - "transformed into classic Christmas carols"!
The Green Days of Christmas: The Holiday Tribute to Green Day (Christmas Rock): Ditto for "Brain Stew" and, of course, "Jesus of Suburbia."
Hell's Bells of Christmas: The Holiday Tribute to AC/DC (Christmas Rock): Get the idea by now? "Hell's Bells," indeed, as well as "Highway to Hell."
Home for Christmas: Voices from the Heartland (Rounder): All over those places in the heartland, from Riders in the Sky to Roomful of Blues.
Homeless for the Holidaze (www.homelessfortheholidaze.com): Sez here: "Allegedly recorded on a cold and blustery winter's night by an Ensemble of Lonesome Fellas [ahem, ELF] at a soup kitchen somewhere near the North Pole, Homeless for the Holidaze celebrates the Christmas season with some smokin' R&B, funk, jazz, and ROCK delivered with a bit of satire and a big fat tongue planted firmly in cheek." Okay! Ringleader appears to be bassist Jim Freeman, also the president of something called Sound Vision NW. No relation!
Monster Ballads Christmas (Razor & Tie): Just what it says, from the likes of Skid Row, Winger, and other hair-esque metal bands.
Oh Santa! New and Used Holiday Classics from Yep Roc Records (Yep Roc, duh!): Cool stuff from Los Straitjackets, Marah, the Apples in Stereo, the Minus 5, and lots more.
Slow Jams for Christmas (Capitol): In other words, Babyface, Brian McKnight, Al Green, and many more.
Stockings by the Fire (EMI/Starbucks): Yes, that Starbucks. (Is there any other?) Head down to your local one (make that five), and you'll find this collection, including Ray Charles & Betty Carter, Sarah McLachlan, Hem, Rufus Wainwright, A Fine Frenzy, Aimee Mann, and more.
Ultra Lounge Presents: The Best of Christmas Cocktails (Capitol): Serve 'em up! Includes a previously unreleased version of "My Favorite Things" by Martin Denny.
KIDS
The Chipmunks: Christmas with the Chipmunks (Capitol). Two dozen classics reissued, including a second version of "The Chipmunk Song (Christmas Don't Be Late)" with . . . Canned Heat!
Yo Yo Yo Kids: Yo, It's Christmas! (Razor & Tie): "The debut album from a collective of hip-hoppin' tikes with mikes who want to rap a sleighing song tonight." Inspirational track: "North Pole Homies"!
The Coolest Kidz Bop Christmas Ever! (Razor & Tie): The best-selling children's-music series has its way with all the old favorites.
A Holly Jolly Kids Christmas (Hip-O): Yes, Burl Ives is here, singing some of those Rudolph classics, along with the likes of Jimmy Durante, Spike Jones, and the Jackson 5.
COUNTRY
Diamond Rio: A Diamond Rio Christmas: That Star Still Shines (Word/Warner/Curb): From "Chestnuts" to Charlie Brown, on their first Christmas album.
Merle Haggard: Hag's Christmas (Capitol): Digitally remastered.
Toby Keith: A Classic Christmas (Show Dog Nashville, 2 CDs): Cut mainly with acoustic instruments. "I called it a bluegrass band," says Keith.
Martina McBride: White Christmas (www.martinamcbride.com): Self-reissue of last year's Capitol album, with four bonus tracks.
Pam Tillis: Just in Time for Christmas (Stellar Cat/Thirty Tigers): Her first holiday album "walks a fine line between down-home country and uptown torch."
Various Artists: Country Christmas (Capitol): New compilation of 18 tracks, from Kenny Rogers to Alison Krauss.
Various Artists: Hear Something Country Christmas (BNA): Lotsa current names from Carrie Underwood to Kenny Chesney, before closing with Johnny Cash's "Silent Night."
JAZZ
Buselli-Wallarab Jazz Orchestra: Carol of the Bells (OwlStudios.com): Standards old ("Silent Night") and new ("Christmastime Is Here").
Ella Fitzgerald: Ella Fitzgerald Christmas (Capitol): Reissue from 1967, with 24-bit remastering and new cover art.
Dave Koz: Memories of a Winter's Night (Capitol): Smoooooth jazz, that is, filled with standards.
Barry Manilow: In the Swing of Christmas (Hallmark). Yes, this is one of those albums available only at Hallmark Card stores. And yes, he's swingin' cuz he's got a jazzy bug on tracks like Irving Berlin's "Count Your Blessings (Instead of Sheep)."
CLASSICAL
Andrew T. Miller: The Birth of Christ (Sony Classical): A Christmas canata composed and conducted by Miller, with narration by Liam Neeson.
Tchaikovsky: The Nutcracker (Telarc): "Favorite Selections" on a hybrid multichannel SACD, with Erich Kunzel leading the Cincinnati Pops Orchestra. For a review, click here.
Chanticleer: Let It Snow (Rhino/Warner Classics & Jazz): ". . . Let It Snow! Let It Snow!" Sing! Sing! Sing!
John Rutter: Candlelight and Christmas Album (both Koch): The first is "a melange of the sacred and secular," in recordings from 1982 to 2003. The second, reissued from 2002, gathers original and adapted carols.
Karolju - Christmas Music (RCA Red Seal): David Zinman leads the BBC Symphony Orchestra and the Philharmonia Chorus in Rouse, Lutoslawski, and Rodrigo.
40 Most Beautiful Christmas Classics (Warner Classics & Jazz, 2 CDs): Two hours of cheer.
The Ultimate Classical Christmas (Sony Classical): An 18-track single CD. And after all that, we certainly need a . . .
Christmas Break (Telarc): "A relaxing classical mix." Nighty night!
LATEST VIDEO