Meridian demos $185K 10-megapixel projector
Last Tuesday, high-end audio/video company Meridian put on what was surely one of the most dazzling home video demos ever. The demo, which took place at Stewart Filmscreen's Torrance, CA, headquarters, featured Meridian's new 10-megapixel video projector (that's 4096 x 2400 pixels, the same resolution offered by many top digital SLR cameras).
The $185,000 810 Reference Video System starts with a reconstructed, very tweaked-out version of a JVC D-ILA commercial cinema projector. It uses four 1080p D-ILA chips, "mashed together and cropped to 16:9" as Meridian's Ken Forsythe put it, in a way that gives Meridian an extra 2 megapixels of resolution relative to the JVC. The system also includes an Isco 3 anamorphic lens and a dedicated video scaler that resulted from a joint effort by Meridian and integrated circuit manufacturer Marvell.
The scaler connects to the projector through four separate DVI digital video cables, one for each D-ILA chip. "If you disconnect the scaler, you can actually display four separate 1080p images on the screen," Forsythe pointed out. The scaler accepts video in any resolution from 480i to the projector's native 10-megapixel resolution. However, it offers only one HDMI and one DVI input. "We expect there will be a video switcher somewhere upstream," Forsythe said.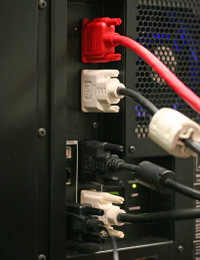 The demo employed a 14-foot-wide, 2.35:1 Stewart CineCurve screen, which practically filled Stewart's large demo room. Still, even with my eyes only inches from the screen, I couldn't discern the individual pixels in the D-ILA panels. (This is the first fixed-pixel projector demo I've seen where the pixels were invisible.) Forsythe hinted that the projector was practically loafing on a screen of this size: "We're comfortable going up to 24 feet," he said.
Each Reference Video System gets a four-day hand calibration in Meridian's factory; Forsythe claimed the variation of color and brightness across the screen is less than 0.3%. Despite some mild aspect ratio distortion (which Meridian says has since been fixed), the picture was nothing short of dazzling, with intense color, great detail, and a sense of depth I've never before seen on such a large video projection screen.
The Reference Video System ships in "limited quantities" at the end of September; Meridian expects to be up to full production by the end of the year. At least that gives you a few months to shop for a house large enough to accommodate the system. -Brent Butterworth
LATEST VIDEO