Masters Golf in 3D on TWC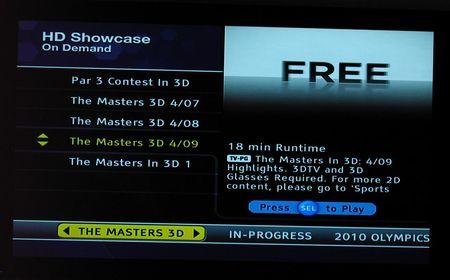 Are you a Time-Warner Cable subscriber who's wondering if they actually did show The Masters golf tournament in 3D?
I know I couldn't find any special new 3D channel in my lineup. And I spent a whole 30 seconds looking for it.
Turns out that S+V's Custom Installer, John Sciacca, stumbled upon a trove of 3D Masters Golf programs hidden away in the HD On Demand section of his TWC onscreen program guide -- accidentally, it appears. After reading this post on John's blog http://johnsciacca.webs.com/apps/blog/entries/show/3417151-the-masters-in-hd-with-3d-special-sauce I dashed to my TV,  browsed the Network HD on Demand offerings, and there they were.
The 3D-curious are advised to check this out, even if you don't yet own a 3D TV (What's that? You haven't bought one?)
-Al Griffin
LATEST VIDEO
WHERE TECHNOLOGY BECOMES ENTERTAINMENT