Lutron donates to the Smithsonian
This past week, I was among a small group of journalists invited to attend a special donation ceremony at the Smithsonian National Museum of American History, in Washington DC. While this typically wouldn't be newsworthy for
Sound + Vision
readers, the company doing the donating was Lutron Electronics, a company whose name is virtually synonymous with lighting control and automation.
Present at the event was Lutron Electronics' chairman and founder, Joel Spira, who donated 12 materials (now known as "artifacts") spanning the company's 50-year history, which will become part of the museum's Electricity Collection.
Also present were Howell Wallace, curator of the Electricity Collection, Dr. Brent Glass, Director of the Museum of American History, and Congressman Charles Dent from Lutron's home state, Pennsylvania.
The event began with a speech by Dr. Glass, which really drove home what it means to become a part of the museum's collection. When you think of some of the items housed in this museum – the actual flag that inspired the Star Spangled Banner, the top hat Lincoln wore the night of his assassination, Julia Child's kitchen – having your items accepted means keeping pretty good company. Dr. Glass talked about the museum being in the "forever business" and that "history is not only about products but people" and that the museum's job is to "tell the important story and history of America of invention, innovation and creativity."
Congressman Dent threw out some amazing facts relating to the lighting industry. He mentioned that the Lutron products already installed reduce energy usage by an estimated 10 billion kilowatt hours, resulting in $1 billion utility savings…annually! He also said that if every American household replaced just two regular light switches with dimmers, it would save an additional $1 billion in electricity costs and reduce 25 BILLION pounds of CO2 from going into the environment (the same as removing 1 million cars from the roads) and stop construction of 3 power plants per year. 
Mr. Wallace added that when it comes to collecting, you have to be somewhat selective, and that pieces are added based on "what people 50, 100, 150 years from now will need to know when they want to study us."
Finally Mr. Spira was introduced, and on a personal note, I must say that it is pretty awe inspiring to be in the presence of someone who has had such an amazing impact on the entire world. Mr. Spira is credited with having 266 design patents and 226 utility patents, but his jargon is tech-free and he is incredibly humble for a man that has accomplished so much. He gave an interesting anecdote about how he came up the solid-state electronic "dimming device." While serving in the US Navy during World War II, he used a large electronic switch roughly the size of a milk bottle to operate the ship's radar pulse. After the war, someone showed him a silicone switch about the size of the tip of your little finger which would control a similar amount of power. He wondered how it would work being connected to a lightbulb, and it just worked! He quit his day job and started Lutron.

(Mr. Joel Spira)
Mr. Spira also described how lighting has helped improve romance ("I'll say!" his wife said) and how much easier it is to SAVE electricity than to build it. He cited that it takes between $1.40 and $7.40 to build 1-watt of energy, whereas with a dimmer saving 1-watt costs just $.35.
The Lutron materials will join other artifacts in the museum's Electricity Collection, including experimental lightbulbs from Thomas Edison, dimming light sockets from the 1910s, theatrical lighting controls form the 1920s as well as many other types of light switches. Mr. Spira added, "For the past 50 years, the solid-state dimmer has made homes more beautiful and offices more efficient, all while saving energy and increasing lamp life. It is an honor for me to be in the company of Edison and others in this collection. I am truly humbled."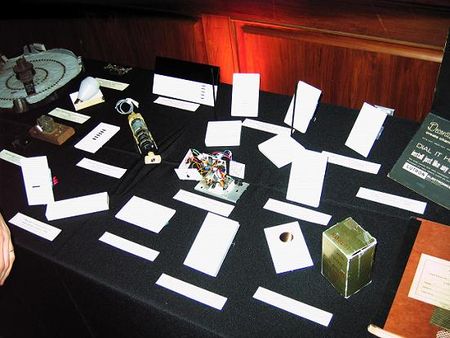 All told, Lutron's donations represent nearly 50 years of lighting control technology. Here is a complete list of the donated artifacts:
1.      The oldest Capri dimmer in Lutron's archives (circa 1964)
2.      A Capri display (from the 1960s)
3.      A Capri advertisement (1965)
4.      Mr. Spira's "Notebook A" (dated 1959-1975)
5.      Nova dimmer (1971)
6.      RanaX dimmer and remote control (1990)
7.      NeTwork system components
8.      GRAFIK Eye (1993)
9.      RadioRA system components (1997)
10.     Vierti dimmer (2010)
11.     Skylark eco-dim dimmer
12.     Serena motorized window shading system
For more about my trip to DC,
you can read my blog post here.
– John Sciacca
John Sciacca is The Custom Installer columnist for Sound & Vision. His company is Custom Theater and Audio.
LATEST VIDEO