Living with Technology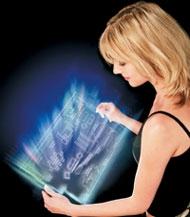 While there's certainly no shortage of people clamoring for dedicated home theaters they can fine-tune for optimum performance, there's also a growing number interested in creating flexible entertainment systems that can deliver sound, video, and even Internet-based content throughout the house. For them, issues such as ubiquitous controls, the ability to share components, and unobtrusive installations are more important than creating the ultimate home theater experience.
First, James K. Willcox profiles two dramatically different approaches to the connected home. In a house perched high atop a mountain overlooking Pittsburgh, the owners have created a veritable high-tech palace that allows them to exercise an incredible amount of control over their whole-house audio system, computer network, automated lights and curtains - even their fireplaces and spa jets. The owner of a recently remodeled colonial home in the Chicago suburbs created a system that lets his family access music, Internet radio, and cable-TV music channels from almost every room in the house.
Then, Eric Taub takes a look at an IBM lab in Austin, Texas, that shows what it will be like to live with everything connected through the Net and access at your fingertips wherever you go. Pittsburgh Palace Chicago Connection Idea Central
LATEST VIDEO
WHERE TECHNOLOGY BECOMES ENTERTAINMENT