Living Legend: Altec Lansing's 'Voice of the Theatre'
The Altec Lansing "Voice of the Theatre" speaker series has a storied past. Famous for its super high efficiency and lifelike sound—produced by a huge compression driver and 15-inch woofer mounted in a big, boxy enclosure—the speaker was adopted by the Academy of Motion Picture Arts and Sciences as the industry standard for playback in movie theaters in the mid-1950s. The A7 model shown here went on to define an era of sound reproduction for movie theaters and beyond.
One of our readers is the proud owner of a pair of Altec Lansing A7-500 "Voice of the Theatre" speakers as well as an assortment of other vintage gear. Here is the story behind his beloved speakers.
In his own words…
I'm the original owner of the Altec Lansing A7-500s, which I bought in the early 1970s when I was the owner of an eight-track recording studio. After selling the studio, I went on to work as a recording engineer at Sound City (that Sound City, though I never worked on any famous albums, I saw a few famous ones being recorded). Later, I became an electronics engineer at the Altec Lansing factory in Anaheim. It was here that I became intimately familiar with the "secrets" of these speakers and found ways to make them sing. For starters, I had the manufacturing line make me a custom set of 4-ohm diaphragms for the compression drivers (normally they were 8 or 16 ohms). This lessened the weight considerably, and extended the high-frequency response all the way to 20 kHz, where the original diaphragms started to roll off at 10 kHz.
My main front speakers are actively tri-amped, using four JBL 18-inch cinema subwoofers, which were re-tuned to 12 Hz in a stereo configuration and crossed over at 60 Hz. The A7-500s use a 6-dB-per-octave crossover to the high-frequency horn with a variable crossover point that can be set anywhere from 1,200 Hz to 7 kHz, which allows "tuning" to the particular music, mood etc. The 15-inch woofers in the A7-500s also have an adjustable crossover point that can be adjusted from 250 Hz to wide open (no filtering).
It was actually quite a bit of effort to make these speakers sound "right" in an audiophile sense. They sound extremely forward, or "honky," when used with their stock passive crossovers, and the rather thin bass cabinet and high-frequency horn have severe resonances. To dampen out these resonances, I applied a thick coating of Aquaplas to the exterior of the high-frequency horns and a mixture of plaster and sand to the interior surfaces of the wooden low-frequency horn. I also added 2x4 bracing inside the wood cabinet.
I listen to a lot of very high-end speakers and I would put these speakers up against the best. The scale of the sound is huge and they have razor sharp imaging and great image depth. They don't sound "like horns" in the usual sense, yet have all the dynamics and life associated with very efficient horns. Believe it or not, with good recordings, they actually do a great job of disappearing, despite their imposing size.
I do not use a center speaker, as the A7-500s have such precise imaging that one is not needed. There are four JBL cinema surround speakers along the side and back walls for 7.1. I don't have Atmos, and don't plan on installing it since movies are secondary to me; two-channel is what I mostly listen to. The projector (Epson) is on a shelf at the rear of the room and projects onto a 10-foot-wide screen, which lowers when the projector is turned on. The source is an Oppo BDP-83 Special Edition Blu-ray player. I do not use a multichannel preamp. All of the audio sources (and the seven channels directly from the Oppo player) are terminated to a patch bay that feeds the seven amplifier channels.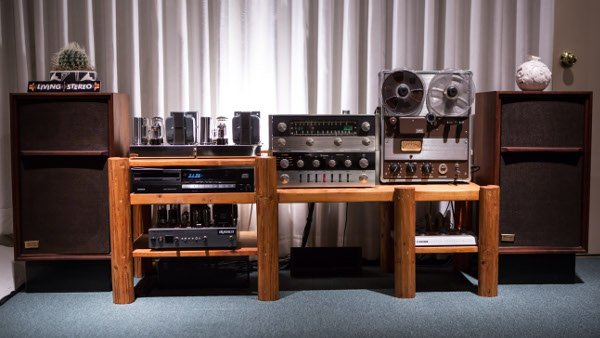 Electronics-wise, all of the crossovers and other low-level electronics are my own designs. The two-channel preamp uses all vacuum tubes, as do the power amplifiers for the A7-500s—a McIntosh MC240 for the woofers and a Cary 300B-based single-ended triode amplifier (which I heavily modified) for the high-frequency horns. The A7-500s love tubes.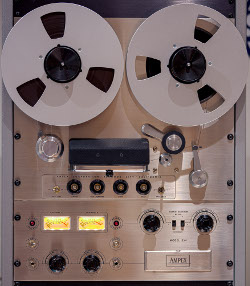 I also have a number of reel-to-reel tape machines, the main one being an Ampex 354, which I restored to factory newness. I do have a few master tapes, although many of them suffer from "sticky shed," which renders them unplayable unless baked.
The computers at the rear of the room are the source of audio files that I play through an Asus Xonar Essence sound card in the computer using J River software or Foobar. Since I produce videos in my spare time, I also have a ProTools digital audio workstation hooked to these computers.
My main love is vinyl. I never stopped listening to vinyl, and the resurgence both surprised and delighted me. I find that the current releases are of a much higher quality than in vinyl's heyday, undoubtedly because of the more focused market.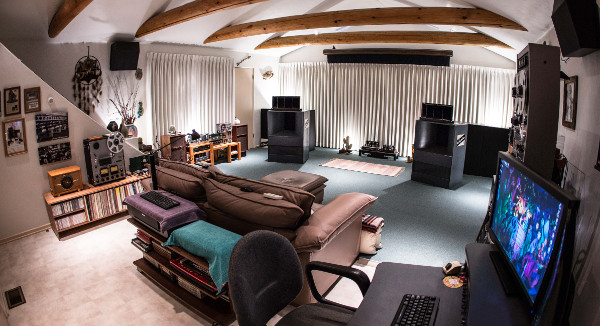 If you have any prized vintage audio possessions, share a photo and leave a comment.

SPONSORED VIDEO