LG Unveils Diverse Range of Advanced Video Displays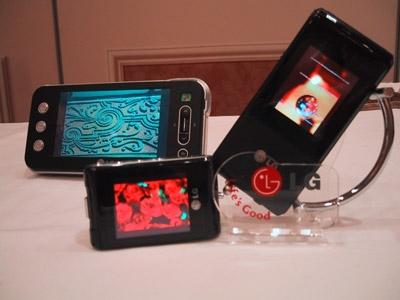 LGs FM30 (bottom) and JM53 hard-disk portable movie players have 1.8-inch OLED screens.
LG Electronics, which last year boasted one of the biggest screens at CES, this time led off with one of the smallest. Its new hard-disk-based portable movie players, the FM30 and JM53, are built around a diminutive 1.8-inch, 260,000-color organic light emitting diode (OLED) display. The matchbook-size FM30 includes 1 gigabyte (GB) of storage and a battery that powers it for as long as 60 hours. The slightly larger JM53 jacks capacity to 8 GB with 30-hour battery life.
But the company showed plenty of more conventionally sized sets as well, including four plasma HDTVs (50- and 60-inch models) with built-in high-definition digital video recorders (DVRs). Its broad LCD lineup now ranges from 23 to 55 inches, all widescreen, high-definition displays based on Super In-Plane Switching technology. LG says this new panel design provides a 178-degree viewing angle and reduces response time to 8 milliseconds, eliminating smearing on fast action. Three of the LCD sets, with screen sizes of 42 and 47 inches, also have built-in DVRs. Anticipating the Congressionally-mandated transition to all-digital broadcasting in early 2009, most of LG's high-definition sets and even a few of its standard-definition models already incorporate ATSC digital tuners.
Among the most novel introductions was a flat, wall-mountable, high-definition DLP front projector with WXGA (1,366 x 768) resolution. LG has not decided how or where to market this décor-friendly, first-of-a-kind unit. As with the other new products, LG announced no release date or pricing for the AN10 projector.
Check out more CES news. Back to Homepage What's New on S&V
LATEST VIDEO