Klipsch intros first Bluetooth speaker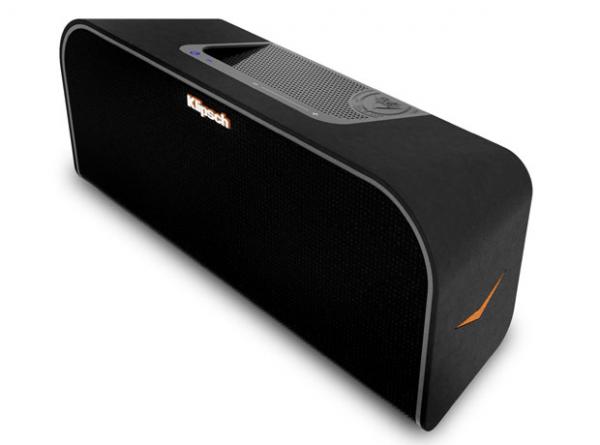 The KMC 3, Klipsch's first Bluetooth speaker, doesn't look like anything radical, but to our eyes, it's a new paradigm for personal audio. Most of its competitors use Apple's AirPlay wireless audio technology, but the KMC 3 uses Bluetooth, making it compatible with any type of smartphone. Most of its competitors need an AC outlet to operate, but the KMC 3 runs off batteries or AC.
The $399 unit has two 2-inch midrange/tweeters, one 5.25-inch woofer, and 130 total watts of Class D amplification. You can connect via apt-X/AAC Bluetooth or the 3.5mm analog input. The KMC 3's USB port charges portable devices but doesn't work as an audio input. A remote control is included, and the KMC 3 is available in black or white.
Portable power comes from eight D-cells, which you can buy pretty much anywhere. The KMC 3 doesn't recharge the D-cells, but of course you can use rechargeables in it. We haven't seen D-cells much since the Do the Right Thing era when it took 20 of them to power a boombox, but if their return means we can take our music back onto the streets where it belongs, we're happy to see them back.
The KMC 3 is available now on the Klipsch website, and next month at dealers.
LATEST VIDEO
WHERE TECHNOLOGY BECOMES ENTERTAINMENT