KEF Q-Series Home Theater Speaker System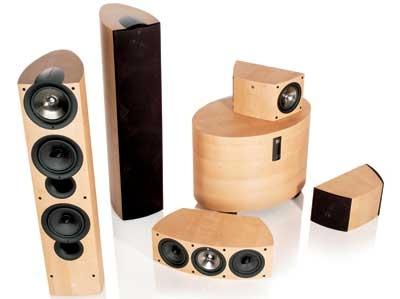 Before we begin, let's get the disclaimer out of the way: I have always been partial to British loudspeakers and always will be. When it comes to speaker design, the Brits just get it. Maybe it's their geographical location - somewhere between the bland sound of some continental speakers and the hot 'n spicy American sound. Whatever it is, the British dish up warm bangers and mash that sound just right. Speaker selection is ultimately subjective - you should buy the speakers that sound best to you - but for my taste, Britannia rules. On that note, a heaping portion of KEF iQ speakers arrived on my shore.
SETUP Damn! These are fine-looking speakers! That's what I was thinking as I pulled this KEF Q-Series home theater speaker system from its shipping cartons. My set had a true maple finish, and the look of blond wood was a welcome relief from the black vinyl that usually stalks my listening room. The three-way iQ9 towers are stout reminders of the days of full-range stereo speakers. As with many KEF models, the speaker's tweeter is centered inside the cone of the midrange driver in the company's trademark Uni-Q design. KEF says this arrangement ensures that sound from both drivers arrives at the listener's ears at the same time, in addition to providing better off-axis frequency response and a wider sweet spot for imaging.
The three-way iQ6c center speaker features a Uni-Q with a smaller cone and a curving front baffle. The two-way iQ8ds dipole surrounds, meanwhile, share the same midrange/tweeter combo as the iQ6c but omit its woofers. Fit and finish were excellent all around, with fine details such as two pairs of unusually robust binding posts on the iQ9 towers and iQ6c center channel to allow biamplification.
The hefty PSW3500 subwoofer is elliptical, housing an amplifier rated at 300 watts and a 12-inch down-firing driver. It provides selectable low-pass filter slopes of 12- or 24-dB/octave. Unusually, it includes an infrared remote control to adjust level, phase, and crossover settings. A jack and cable let you tuck it away and still control it via infrared sensor.
LATEST VIDEO