KEF KIT100 Home Theater System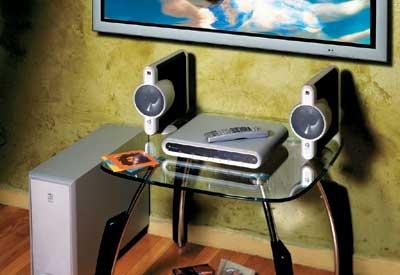 There's no question that the sophistication of today's home theater - with anywhere from six to eight speakers - can take a toll on your décor. And if you're putting together a serious system, chances are you won't be able to simply unpack your new gear and enjoy a movie the same night without some help. KEF aims to change all that with its elegant KIT100 system, which consists of only four components - a DVD player/tuner/control center, a subwoofer/amplifier, and two speakers. The $1,500 rig, also known as KEF Instant Theatre, virtually snaps together in less than 15 minutes.
Fast Facts
DIMENSIONS (WxHxD) and WEIGHT DVD player/tuner, 12 3/4 x 2 3/8 x 10 3/8 inches, 11 pounds; satellite speaker, 4 3/4 x 9 3/8 x 10 1/4 inches, 6 pounds; subwoofer, 7 x 15 1/2 x 20 1/4 inches, 40 pounds DRIVER COMPLEMENT satellite, 1/2-inch tweeter inside 4-inch midrange plus side panel with 1-inch NXT exciter; subwoofer, 10-inch driver ENCLOSURES sealed PRICE $1,500; optional speaker stands, $200 a pair MANUFACTURER KEF America, www.kefamerica.com, 732-683-2356
The brains of the system is the sleek DVD player/control center, which also plays CD-R/RW discs, including those loaded with MP3 or Windows Media Audio (WMA) files. It connects to the somewhat imposing subwoofer, which contains all the amplifiers and feeds the unique satellite speakers. The die-cast aluminum satellites, which can be attached to optional floor stands or wall mounts, are about the size of an average laptop computer stood on edge - not counting the striking round, tapered flare at one end.
The flare isn't just for show. It contains KEF's proprietary Uni-Q driver array, with a tweeter nesting in the center of a midrange cone, while the enclosure behind it contains a side-firing driver based on NXT flat-panel technology. The Uni-Q drivers in each speaker radiate the left/right front channels while creating a "phantom" center channel between them. The flat drivers radiate surround-channel information, which reaches the listener after being reflected off the side walls.
One of the most elegant components of its type on the market, the DVD/ tuner is just over a foot wide and has rounded ends, a mirrored front with an inconspicuous disc-loading drawer, and a blue fluorescent display that dims automatically once a DVD begins playing. Like the other KIT100 components, it's finished in "stardust silver." The back panel is laid out so clearly and logically, making connections is practically foolproof - particularly since all four pieces of the system interconnect with heavy cables terminated in computer-style plugs that further reduce the possibility of wrong connections as well as eliminating stray wires.
LATEST VIDEO