Kaleidescape goes Blu!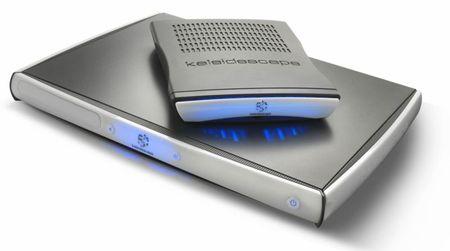 Kaleidescape announced this morning that they have developed a Blu-ray solution to their popular movie server system that will begin shipping next week. The new M500 player ($3995) will playback AND import Blu-ray content to the server. To appease Hollywood concerns over movies being rented-ripped-returned, the physical disc will need to be in the tray of a player somewhere on the system for the ripped content to be available. 
The full press release is below and here is a link to my blog where I did an extensive post after speaking directly to Kaleidescape CEO, Michael Malcolm, for over an hour.
Also, look for a Web Exclusive review of the system coming here before the end of the month! – John Sciacca
John Sciacca is The Custom Installer columnist for Sound & Vision. His company is Custom Theater and Audio.
SUNNYVALE, CA - May 11, 2010 - Kaleidescape, Inc., the market leader in movie servers, today announced its new M500 and M300 Players. Built on the company's proprietary M-Class architecture, this next generation of players delivers a new and improved onscreen user interface and Blu-ray support. The M500 Player copies Blu-ray Discs, DVDs, and CDs onto a server. The imported content can then be played back instantly by M500 and M300 Players, creating the world's first multi-zone movie server for Blu-ray.
To address the concerns of the studios, Kaleidescape requires the disc to be present when playing Blu-ray content from the server. Today this means the Blu-ray Disc must be in the tray of an M500 Player. To enable the full Kaleidescape experience for Blu-ray, the company is developing a disc loader which will keep a large number of discs present within the Kaleidescape system. It will also provide bulk import, and make it easy to find and retrieve a disc.
"We have invested a great amount of time and resources in developing the M-Class architecture, which is our platform for future innovation," said Michael Malcolm, Kaleidescape's founder, chairman and CEO. "We now have the tools to improve our world-renowned user experience and offer an even greater variety of content."
Further enhancing the Kaleidescape experience, the company's award-winning onscreen user interface has been substantially improved with M-Class players. The Kaleidescape Movie Guide, the largest and most comprehensive of its type with over 135,000 titles, has been expanded to include over 3,300 Blu-ray Disc titles. Your treasured collection of movies and music is presented in high definition, with eye-popping detail and improved performance. The company's patent pending video bookmarks enable advanced features, including instantaneous start of a feature or concert, easy access to favorite scenes or songs, and control triggers to automatically adjust screen masking, lighting and curtains during playback.
The Kaleidescape M500 and M300 Players, when coupled with a Kaleidescape server, play back Blu-ray content and include support for 1080p video with 24 frames per second and bitstream pass-through of Dolby TrueHD and DTS-HD Master Audio.
Kaleidescape is accepting orders for M500 and M300 Players, and shipments will begin May 18th. U.S. MSRP is $3,995 for the M500 Player and $2,495 for the M300 Player. Both players are compatible with existing Kaleidescape products. The disc loader is expected to be available in the first half of next year. Please visit www.kaleidescape.com for more information.
LATEST VIDEO