JVC HD-70FN97 70-inch HD-ILA Rear-Projection HDTV
Huge TVs like the JVC HD-70FN97 70-inch HD-ILA rear-projection HDTV have always struck me as a strange way to get a really big picture in your living room. I mean, why not just buy a front projector and enjoy an even larger image - a point that's more relevant now that several front pros offer the same 1080p picture as JVC's 70-incher for around the same price? But many people want both a big picture and the ability to watch it in a bright room - options that RPTVs like this one readily deliver.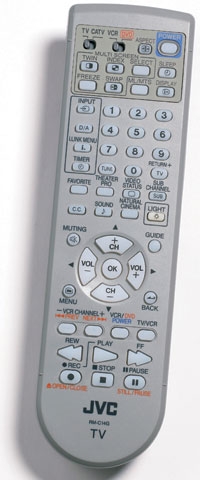 If you do happen to be on the lookout for an RPTV, you'd do well to check out one that's fueled by HD-ILA - JVC's version of LCoS (liquid crystal on silicon) technology. The HD-70FN97's three HD-ILA display chips - one each for the red, green, and blue colors that combine to make up a video image - ensure that you won't encounter the color-wheel "rainbow" artifacts associated with most sets that use competing DLP (Digital Light Processing) technology. And this TV's ultrafine 1080p picture means that it's free of the "screen door" effect that can sometimes appear when images get blown up large. JVC also equips the HD-70FN97 with a manual iris setting to help you get deep blacks, as well as a TheaterPro 6500K mode that delivers accurate color out of the box - both valuable features.
For an oversize RPTV, the JVC has an understated look. Bottom-mounted speakers and a thin black bezel serve to heighten its sleek appearance, and cabinet depth measures only 20 inches - surprisingly slim. I also appreciated JVC's matching stand ($550), a sturdy gloss-black piece with glass doors and component storage. The TV's front panel is clean save for a power button and LED; some basic controls and a convenience A/V input with composite-video and stereo audio connections are located on the side.
Around back, JVC equipped the HD-70FN97 with nearly every type of connector you could want. Along with a pair each of HDMI and component-video jacks, there are VGA and FireWire (a.k.a. IEEE-1394 or i.Link) connections and a CableCARD slot for tuning encrypted digital cable channels without a set-top box.
The set's remote is backlit but bulky, and required study to find important buttons. An Input button toggles through the set's connections; there's no option to bypass any input, however, and the TV was painfully slow to switch them. Pressing the Aspect button selects screen modes; along with widescreen 16:9 and regular 4:3 there's a range of zoom and stretch options, most selectable for both standard- and high-def programs.
LATEST VIDEO