Jorma Kaukonen: River of Time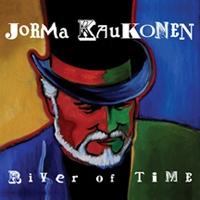 Red House
---
Music ••• Sound ••••
Jorma Kaukonen as a grizzled old bluesman doesn't seem too far-fetched. After all, he was digging blues-and-gospel nuggets 4 decades ago and playing them at the Fillmore when Hot Tuna began as a Jefferson Airplane offshoot. The only real difference now is one of tone. With early Tuna, there was a bit of respectful distance; they were playing an older generation's music and giving it a few psychedelic tweaks. Today, Kaukonen plays that music like it's his own; the hard-lived sentiments are those he has experienced firsthand.
Like most of his recent releases, River of Time is the kind of friendly, informal album that invites words like "relaxed" and "backporch." Yet that isn't always fair in Kaukonen's case. His previous Red House album, Stars in My Crown, was actually rather intense - heavy on the gospel and with a sense of late-life foreboding. (One of its highlights, Johnny Cash's "The Man Comes Around," wasn't the kind of song you cover casually.) On the other hand, this follow-up really is relaxed and backporch-sounding. Jorma calls in a few old friends (the infrequent drums are played by Levon Helm), revives a few old songs ("Trouble in Mind" and "Been So Long" are Tuna fixtures), and generally puts up his heels.
You get the sense throughout that Kaukonen rather enjoys advanced age. The sense of contentment is hard to miss, even when there aren't any lyrics. (The violin instrumental "A Walk with Friends" is as close to New Age as he's ever gotten.) Mandolinist Barry Mitterhoff is the main musical foil here - in fact, he gets more solo space overall than Jorma does - and his work gives an easygoing feel to the blues tracks, even if they originated with the Grateful Dead. (Pigpen McKernan's "Operator" is a long way from its psychedelic roots.) Kaukonen's elegant fingerpicking is always a pleasure, even when he doesn't step forward, and his voice has never sounded so smooth. The recording adds to the intimacy; you can feel the brushes hitting Helm's tom-toms on "Cracks in the Finish."
That song is the closest thing to a Tuna rocker here, but the words are just the opposite, swearing off his old reckless ways and affirming (as did most of Stars) that he's lately got religion. The finale, "Simpler Than I Thought," devotes 6 minutes to the joys of fatherhood. And it makes sense that Kaukonen has covered Merle Haggard's jaunty "More Than My Old Guitar": Wrapping up God, love, family, and guitar in the same lyric, it pretty much covers everything on Jorma's mind these days.
The only problem - and a big one, if you're an old-school Tuna fan - is that Kaukonen has been a little too wholehearted about reinventing himself as a grownup. There's not a note of real rock on anything he has released for the past decade, barely any electric guitar, and not a sign of his faithful Tuna/Airplane partner Jack Casady. Fair enough. But the fact is, Tuna still rocks onstage: I recently saw the current lineup (which includes Mitterhoff as well as Casady), and they did the same heavy boogie they were doing in the 1970s. That vintage sound is hard to find today, and it's fair to hope that Kaukonen gets around to recording more of it, without or (preferably) with Tuna. He may be old and happy, but he still ain't dead.