John Adams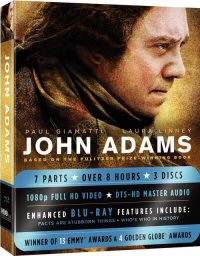 HBO's Emmy-winning series is fabulous from a historical perspective, but it's also a demo showpiece in audio design, and at times, it's beautiful to look at. While most of the 501-minute runtime is dialog driven, there are many instances when you're transported to the 18th century during the Boston Massacre, crossing the Atlantic, or attending a swanky French party.
Fire in the town square.

Disc 1, Episode 1, Chapter 2, 0:06:32
Surround imaging
Listen to the ambience of the shouting voices, the faint gunshot in the distance, and the ringing of the fire bell transporting you to Boston, circa 1770.
Crossing the Atlantic.

Disc 2, Episode 3, Chapter 3, 0:12:16
Audio dynamics, surround imaging
Listen to the creaking of the ship, the crashing of the waves against the hull, and the clear dialog from young John Quincy Adams among the chaos of the storm.
Party in France.

Disc 2, Episode 3, Chapter 5, 0:25:27
Detail, color saturation, surround imaging, audio dynamics
Notice how the computer-generated building seamlessly blends into the live-action shot, the deep green shrubbery, and the brightly colored dresses in the background.
Listen to the understated classical score, the subtleties of the distant voices, and the light crunch of gravel under the people's feet.
LATEST VIDEO