Jack Reacher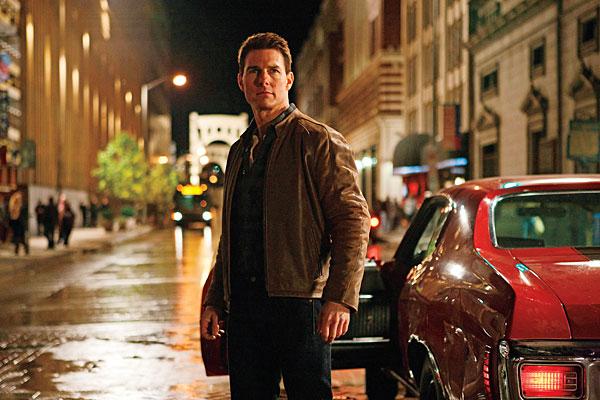 Pared down from the Reacher adventure One Shot, this is a fine procedural crime drama, really. But there are a lot of crime dramas out there, with more engaging good guys and more despicable bad guys than we meet here.
Much of the action unfolds at night, and director of photography Caleb Deschanel is unafraid to fill his 2.35:1 canvas with shadow. Thankfully, this disc exhibits delicious blacks with exceptional detail everywhere, while the hues can be surprisingly lovely as well. Close-ups are used frequently, and we can appreciate the wrinkles and even the pores. Edge enhancement is noticeable but modest.
In the suspenseful opening sequence, the controlled breathing of the assassin comes at us through the center speaker, to unsettling effect. An ominous bass rumble amps up the tension, and the four surround channels of the DTS-HD Master Audio 7.1 mix are used quite cleverly for the environmental cues throughout the movie. The directionality of speeding vehicles is skillfully rendered, especially during the big car chase.
The three featurettes consist of some fairly dry interviews, a look at the hand-to-hand and gunfights, and a discussion with Lee Child about his beloved rogue. One audio commentary pairs Cruise with screenwriter/director Christopher McQuarrie, while the alternate track combines insights and an isolated score by composer Joe Kraemer, in Dolby Digital 2.0. This combo pack includes a DVD plus a Digital Copy for both iTunes and UltraViolet.
Blu-Ray
Studio: Paramount, 2012
Aspect Ratio: 2.35:1
Audio Format: DTS-HD Master Audio 7.1
Length: 130 mins.
MPAA Rating: PG-13
Director: Christopher McQuarrie
Starring: Tom Cruise, Rosamund Pike, Richard Jenkins
You take on some baggage when your movie stars Tom Cruise. He's been a box office titan for decades, so you're improving your chances of a hit. On the other hand, ever since the couch-jumping incident, he tends to bring a certain off-screen persona that rubs a lot of folks the wrong way. Plus, a leading man of his magnitude tends to be Tom first, character second. Jack Reacher faced yet another challenge, as fans of Lee Child's many popular novels considered Cruise a poor choice to portray the hero, described on the page as a large, mightily built man, not a petite pretty boy. Jack's a mysterious figure with a distinguished military past, now drifting off the grid but eager to dish out justice. When another former soldier is accused of mass murder, Jack shows up ready to take him down, until he begins to suspect a frame-up, and soon enough sinister forces conspire to stop him from uncovering an awful truth.
LATEST VIDEO