The Woodsman—Columbia/TriStar
Video: 3
Audio: 4
Extras: 3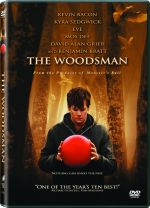 Kevin Bacon stars as a convicted pedophile who has served his time and is moving on with life in Philadelphia. To add the necessary dramatic twist, his apartment is located directly across the street from a school. The dark but equally fair-to-all-sides movie is Nicole Kassell's directorial debut, and she handles the responsibility well. Kyra Sedgwick, Benjamin Bratt, David Alan Grier, and the wonderful Mos Def round out the excellent cast.
While the subject matter is disturbing and, at times, difficult to watch, the video itself is remarkable. The 1.85:1 anamorphic video has been mastered in high definition, and it shows. The whites in daylight scenes are sharp and accurate, and the film's black level presents a nice amount of shadow detail. I did notice a few flaws in the print, but the film is so engrossing that these minor imperfections shouldn't bother your enjoyment. Well, your involvement in the movie, at least.
The audio is available in either Dolby Digital 5.1 or DTS, and both tracks sound just fine. The dialogue is well presented in the center channel, while you'll also hear a few active sounds from the left and right speakers. The score (courtesy of Nathan Larson, who also scored Phone Booth and Boys Don't Cry) produces the most action from the sub.
Extras are pretty standard: a featurette on how the film was finally OK'd, deleted and extended scenes, and movie trailers. Listen to the audio commentary from Kassell, and you'll hear about her filming techniques, the importance of music, and her extensive background work on the subject matter.
LATEST VIDEO