International CES - Day 1
Las Vegas cabbies, who have ready opinions on everything, had predicted that Consumer Electronics Show (CES) attendance would be noticeably down this year, but the crowds on the first public day made it seem like the cabbies were lost somewhere in the Nevada desert. By 10 a.m. when the show opened, a vast human sea covered the floors of the dramatically expanded Las Vegas Convention Center. CES is the first trade show to use the new, vast South Hall. Audio/video manufacturers occupy an ever-shrinking proportion of the space as CES continues expanding to cover any and all consumer electronics, from computers and cell phones to security gear.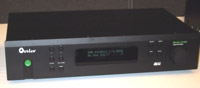 The Outlaw Audio IR 1000 Internet Tuner
Convergence Arrives Intel and Microsoft dominate the main floor with huge displays while a once mighty audio company like Koss, the headphone specialist, is relegated to a small side room. So it's not surprising that the overhyped word "convergence" -- for the melding of audio, video, and computing -- has finally come into its own at this show. Most of the audio and video products on display, in fact, especially the high-end models, connect in one way or another to the Internet or a home computer network.
Leading off the Tuesday morning press conferences, Outlaw Audio introduced one of the first -- if not the first -- high-quality, component tuners for streaming radio from the Internet. While several companies offer Internet radios, or Internet tuners that work with a desktop computer, the standalone Outlaw IR 1000 ($299) tunes in Internet radio stations the same way a conventional tuner tunes in AM and FM stations. It can use either a high-speed broadband connection, which delivers maximum quality, or its built-in 56-kbps dial-up modem. When it becomes available in March, the IR 1000 will be able to receive 1,700 Internet stations, with even more to be added in future upgrades. The intelligent interface lets you narrow the choice to Webcasts from a specific country by entering its long-distance telephone prefix.
It seems appropriate that this product, developed by Arrio Communications, should come from Outlaw, which sells its products online only, at outlawaudio.com, not in brick-and-mortar stores. Outlaw also showed its new Model 950 preamp/processor, which incorporates every surround sound format currently available plus the company's proprietary Cirrus Logic format. The price of $899, plus shipping, is only good for the next month or so, Outlaw said -- so many features were added at the last moment before the show that the price will have to be raised to cover costs.
-- Rich Warren
---
LATEST VIDEO