Installations: Sky High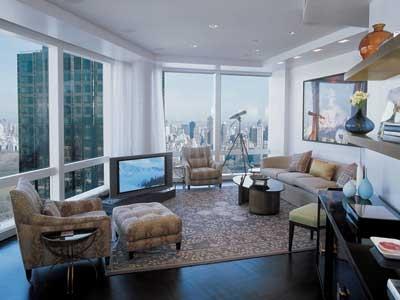 It doesn't matter whether you live in a high-rise apartment or a simple ranch house, or whether you're spending $10,000 or $100,000. You'll still encounter many of the same issues when you're doing a custom installation.
Take the home of George Mills, a two-bedroom apartment above the 60th floor of New York City's Mandarin Oriental Tower with stunning views of Central Park and the Hudson River. During construction, architect Paul Regan found himself in a bind because the custom installer wasn't keeping up with the schedule. "It was a matter of timing, since we needed the electrical and A/V planning completed to meet our deadlines," Regan explains. With tensions and budget overruns mounting, Regan brought in a different installer - John Tamburello of Central Media Systems in New York - to take over the job.
When Tamburello looked at the previous installer's designs for the entertainment system, he knew that putting stacks of gear in each room didn't make sense. Given the simple beauty of the apartment's design, the artwork on display, and the dramatic views, Tamburello figured that the best approach was to hide as much gear as possible. Wires or black boxes had to be kept out of sight in the middle of the spare, elegant rooms.
Whether to have gear in one place or spread out among the rooms is a dilemma in almost any installation. Tamburello went with a central gear stack, but placed a Denon DVM-1815 five-disc DVD player in the hallway and Sony DVP-NS725 DVD players in the master and guest bedrooms to make it easy to load discs. Each of the three rooms also has a Crestron touchscreen remote for system operation.
Having decided on a central stack, Tamburello next had to figure out where to put it. The original installer had planned to house the gear in a custom millwork cabinet atop the hat rack in the guest-bedroom closet. But Tamburello was uncomfortable with that much hardware sitting on a high shelf. "It just wasn't practical," he says, "not only for the original installation, but for any maintenance that would need to be done later on."
Instead, he offered a more practical and less expensive solution. The gear would still be in the closet, but instead of having it up on a shelf, Tamburello installed everything in a Middle Atlantic rack that tucks into a corner of the space, but can easily be rolled out for service. The rack holds a Denon AVR-2805 digital surround receiver for the living-room system, the Crestron control system, and four Motorola DCT6200 high-def cable boxes - one for each of the apartment's three TVs plus a fourth for listening to music-only cable channels.
With space at a premium, Tamburello came up with an ingenious solution for hiding the remaining electronics. Open the linen closet that sits next to the guest-bedroom closet, take out its shelves, remove a couple of screws holding a panel in place, and in a narrow wall cavity you'll find the electronics for the lighting and shades as well as a wireless router. "If we didn't use this space," he explains, "it would have been yet another setup in the guest-bedroom closet, and we didn't want to take any more room away from it."
LATEST VIDEO