Installations: The House That Jim Built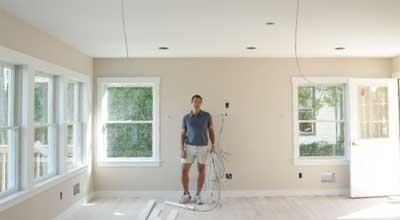 Chronicling other people's lavish custom installations and home theaters is one thing. Trying to install a system essentially by yourself on a far more modest budget is quite another. At least that's what I found out when I began planning the entertainment and networking systems for the extension I'm adding to my house in Nyack, New York, which is about 30 miles north of New York City along the Hudson River. And because my hands-on project is probably like what many of you are attempting in your own homes, S&V will be detailing my experiences - both good and bad - over a series of articles as the project unfolds.
Nyack is well known for its historic Victorian homes; mine, unfortunately, isn't one of them. Rather, it was the house's location right on the Hudson that spurred my wife and me to buy it three-and-a-half years ago as a weekend getaway.
But now that we have a 2-year-old son and are thinking about giving up our New York City apartment, the two-bedroom, one-bath house is just too small to be a full-time residence. That's why we decided to build an addition that will essentially double the floor space to a still decidedly non-mansion-like 2,400 square feet (not including a new basement).
The addition, at the rear of the existing house, creates three new living areas: an open first-floor kitchen and living room, a second-floor master bedroom/bathroom suite, and a large basement. Since the first-floor area will be our main family/entertainment room, we know we want a large-screen HDTV and a surround sound system there. We also plan to have an HDTV in the master bedroom, and probably a small LCD TV in the kitchen area. The basement will have a dedicated home theater room plus a small recording studio.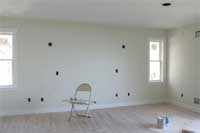 In the master bedroom, the bed will go on the wall opposite the 42-inch plasma TV. Ethernet connections to either side of the head-board will make it easy for Jim and his wife to jack in their laptops.
We want all the rooms in the addition to be on a home network so we can access the Internet or share music stored on a PC or music server. Because of cost and complexity, we ruled out whole-house audio and advanced home-automation systems.
Going into the project, I knew there'd be several challenges. The most immediate is financial, as our construction budget doesn't allow for new audio or video gear, or for a finished basement. So I plan to use as much of my existing gear as possible, and I'll be flooring, framing, insulating, and dry-walling the basement myself. Since we don't already own a projector, a screen, or theater-style seating, I won't be able to start on the home theater until all the other rooms are done. But, knowing I'll need extra ceiling clearance in the basement to either construct soffits around the heating and air-conditioning ducts or hide them in a dropped acoustic-tile ceiling, I've had the foundation excavated a foot deeper than usual at the nominal cost of about $250.
LATEST VIDEO