Installations: Heartbreak Home Theater Page 6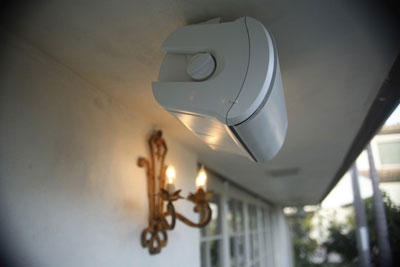 If these comments read like testimonials, it's because the Sonos system was the one thing that went absolutely right after everything that had gone wrong, and Pete and Melinda's relief and gratitude are apparent.
Deciding to abandon the twin albatrosses of their massive house and its troublesome entertainment system, the Farrellys recently moved into a much more modest home, which will have a much more modest A/V setup.
"We're selling the house with all the TVs and the theater and everything still in it just because our broker said that's what you do now," explains Melinda, "which is kind of weird to me. But I'm taking the Sonos. So in our new house, I want to just have that system for the music and get great speakers in all the walls. There's a separate building that's like a little barn, which we're going to convert into the home theater."
The one thing that Pete wants to repeat in the new theater is the chairs. "CinemaTech chairs are phenomenal, unbelievable. They're as good as you get - better than advertised. They're nicer than any other chair in our house, that's for sure."
Since he's not in a position to pony up for another round of digital speakers, Pete is going to miss the Meridians. "I thought they were spectacular. It was all better than I thought it would be, ultimately. It was all better than I intended for it to be."
Believe it or not, this tale of many tribulations actually has a pretty happy ending, thanks to James Budow of Performance Audio (featured in "Oliver Stone's Radical Cinema," April and online at soundandvisionmag.com). James, who had done all the installation work before another installer was called in to do the home theater and the control system, returned to set things right before the Farrellys handed over the house to the new owners. And he seems to have succeeded, even managing to tame the wily controller. (Pete and Melinda wish they'd stuck with James for the duration - but therein lies another twisted tale.)
LATEST VIDEO