Ingmar Bergman 1918–2007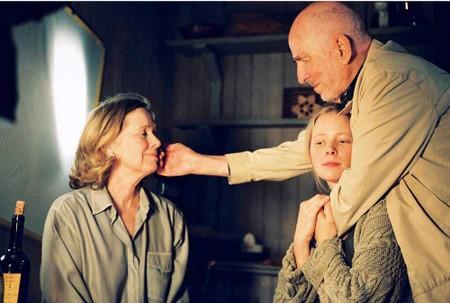 Liv Ullmann, Julia Dufvenius, and Ingmar Bergman during the shooting of Saraband
"No form of art goes beyond ordinary consciousness as film does, straight to our emotions, deep into the twilight room of the soul."
— Ingmar Bergman
14 July 1918 — 30 July 2007
Whenever I'm feeling down or drained, blue or beleaguered, I go up to the screening room and put on a movie by Ingmar Bergman. While he has the reputation amongst non-believers of being heavy, gloomy, or depressing, the brilliance of his filmmaking is always uplifting, inspiring, and the depth of his thinking on life, the individual, and relationships help put everyday concerns into perspective. Just a few minutes of Through A Glass Darkly, The Seventh Seal, Persona, or Wild Strawberries and I already start feeling better. —Josef Krebs
But now, there'll be no more new films by the master of cinema, no more returns from retirement with another group of investigations into God, death, the human heart, the human soul, the human body. No more of his direction of Bibi, Liv, and Max, nor Ingrid Thulin, Gunnar Björnstrand, Erland Josephson, Gunnel Lindblom, or Victor Sjöström. No more of visual collaborations with Gunnar Fischer and Sven Nykvist. No more ingeting.
Gunnel Lindblom, Jörgen Lindström, Ingrid Thulin in
The Silence
If you wish to take the master cure to dismiss some of the gloom that has descended upon the world, the following titles available on DVD: Through a Glass Darkly, Winter Light, and The Silence in The Criterion Collection's A Film Trilogy by Ingmar Bergman; Persona, Shame, Hour of the Wolf, The Passion of Anna, and The Serpent's Egg in MGM's The Ingmar Bergman Special Edition DVD Collection; Torment, Crisis, Port of Call, Thirst, To Joy, in The Criterion Collection/Eclipse's Early Bergman set.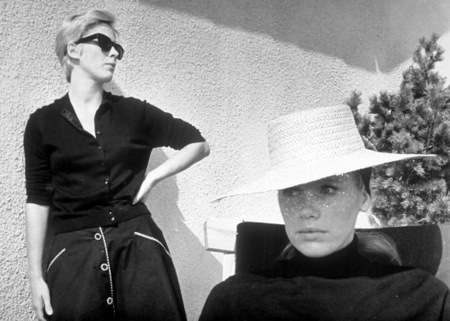 Bibi Andersson and Liv Ullmann in
Persona
Individual editions of Wild Strawberries, Scenes From a Marriage, The Seventh Seal, Smiles Of A Summer Night, The Virgin Spring, Cries & Whispers, Autumn Sonata, Fanny and Alexander (the theatrical version), The Magic Flute, and Saraband are also available from The Criterion Collection.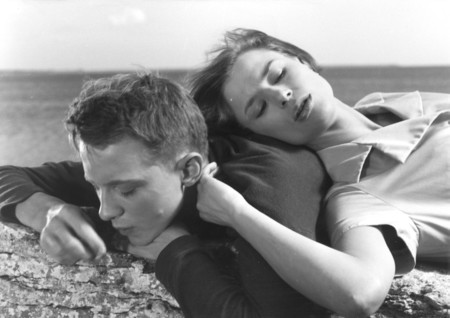 Lars Passgård and Harriet Andersson in
Through A Glass Darkly
PAL Region 0 of The Magician (The Face), Summer With Monica, All These Women, and Three Strange Loves are also available as imports from Great British, for those with multi-region DVD players.
Max von Sydow, Harriet Andersson, and Gunnar Björnstrand in
Through A Glass Darkly
Ernst Ingmar Bergman was born 14 July 1918 and died today, 30 July 2007, at age 89 at his home on Faro Island, Sweden. He directed 50 films (winning 3 Oscars for best foreign language film), 7 TV films, 126 theatre productions, and 39 radio plays. He fathered nine children — maybe more — one with Liv Ullmann, and the rest with some of his five wives and assorted lovers. He will be missed by many. Time for another trip to the screening room.
Ingmar Bergman on the set of his last film, Saraband
LATEST VIDEO