HP SLC3760N 37-inch MediaSmart LCD HDTV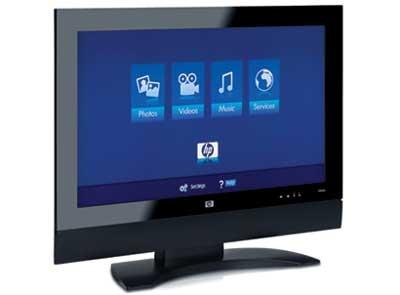 A couple of years ago, when the Dells and Gateways of the world were trying to build a flat-panel TV business by rebranding products purchased from other manufacturers, HP was quietly engineering its own HDTVs from the ground up. So far, so good. The 1080p DLP rear projectors the company introduced last fall were a critical success, lauded by enthusiast magazines and Web sites for their excellent picture quality and innovative features.
A year later, it is again bravely stepping out with an original, this time the new HP SLC3760N 37-inch MediaSmart LCD HDTV. Essentially an LCD flat-panel with a digital media adapter of sorts piggybacked on its rump, it's intended to let you stream content from your PC right to the TV via an Ethernet or a Wi-Fi connection. The idea is that you can sit on your couch and share your digital photos on the large, high-resolution screen or watch videos from your hard drive that you've downloaded or recorded (such as with a digital camcorder or the DVR on a Windows Media Center PC). Or you can play your MP3 and WMA files on your main sound system via the set's digital audio output. And in anticipation of more content coming straight from the Web, HP designed the MediaSmart TV to work with a slate of selected Internet-based service providers (more on this later).
Although digital media adapters and media extender add-ons for Media Center PCs have been around, there are advantages to this integrated approach. Of course, you get rid of the extra box, but there are performance benefits to knowing the display's screen characteristics in advance: Still images and video streamed to the TV can be optimized, and in this case, the system can even stream high-def in the form of WMV-HD files.
Perhaps more critically, a two-piece, multi-vendor streaming solution assumes a level of technical expertise on the part of the consumer that HP hopes to leapfrog here with simplified setup and functionality built into the TV's own menu system and remote. It's assumed that you already have a wired or wireless network, but, theoretically anyway, the MediaSmart is intended to be plug-and-play.
All of which begs two questions: 1) Does it work? and 2) Is this what you really want?
LATEST VIDEO