HP md5880n 58-inch DLP HDTV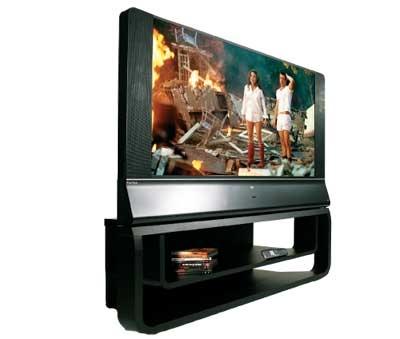 What We Think
A solid-performing bigscreen HDTV that delivers crisp 1080p pictures at a great price.
When it comes to buzzwords, "HDTV" holds considerable cachet: its very utterance has the effect of making video enthusiasts drool by the bucket load. But now that HDTV is finally impressing the general public, it's becoming clear that there are different levels to the high-def experience - with TVs offering 1080p (progressive scan) resolution resting at the top of the heap. Until recently, though, that progressive "p" could also have stood for "pricey." Now comes the HP md5880n, a DLP (Digital Light Processing) rear-projection model that combines the benefits of ultra-high-def 1080p with a big 58-inch screen, all for only $3,500.
While I wouldn't call HP's DLP svelte, its cabinet is only 19 inches deep, and side-mounted speakers add just a few inches to the overall width. The TV's matte-black finish both looks good and helps cut down on light reflections. A basic set of controls (power, menu navigation, and up and down for channel and volume) is located out of the way on the TV's right-hand side. The unit I tested came with HP's $500 matching stand - a sturdy, open-front piece that echoes the TV's rounded edges and provides ample space for storing components or a speaker.
A unique feature of HP's rear-projection TVs is the front-panel input array - no need here to tinker in the cramped cavity behind the TV. You simply pop open a door below the screen and run cables to the jacks. A conduit in HP's stand lets you run the cables directly up into the set for a tidy hookup, and there's even a light that automatically turns on. The full suite of inputs includes two sets each of HDMI and component-video jacks, a CableCARD slot, and a VGA port for a computer. A distinct feature of this TV is that it's one of the very few available that can accept a true 1080p-format signal via its HDMI input, so if you're preparing to lay down cash on a Blu-ray Disc player, take note.
The TV's sleek, contoured remote control lacks a backlit keypad, but it has a clean, clearly labeled button layout, with the most important ones orbiting a central control pad. To switch inputs, you press the Source button and scroll through an onscreen list of options. Hitting Source twice calls up a picture grid showing every active video device connected to the TV - useful for finding your way around if you've neglected to label the inputs in the setup menu with corresponding names like DVD and Cable. The Aspect button allows you to switch between the TV's display modes; options here let you stretch standard 4:3 pictures to fill the TV's wide screen and zoom in on letterboxed (2.35:1 aspect ratio) HDTV movies to eliminate black bars.
SETUP The HP md5580n's excellent built-in HDTV tuner grabbed all the digital channels we can capture in the S&V labs' crowded urban environs. Hitting the Guide button on the remote let me browse a list of received channels, and I could continue viewing the currently tuned program in a large inset window while scrolling through other options. Unfortunately, the guide itself is bare-bones and lacks any type of program-listings grid - a serious setback if you're using CableCARD. Even the free but flawed TV Guide Onscreen program guide we often complain about would be better here.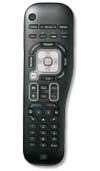 HP's easy-to-navigate setup menu provides solid picture-adjustment options without including an excess of tweaky, arcane features. Its four picture-quality presets can be adjusted independently for each input, and the TV will remember your settings. I selected the "purist" Studio preset with Warm color mode, which turns off most ancillary processing and offers the closest match to the industry-standard gray color temperature. Color balance was still a little too red out of the box, but I easily fixed that with a fine-tune of the user-accessible red, green, and blue gain controls (see "test bench") - no need to enter service menus. Playing around with HP's noise-reduction presets, I was very impressed by their ability to smooth out grainy-looking DVDs and HDTV programs without eliminating picture detail. On many TVs, these settings tend to make pictures look soft.
LATEST VIDEO