HP debuts Envy 15 Beats by Dr. Dre laptop
We've all learned to live with lousy laptop sound, but those of us with a couple thousand dollars to spend on a notebook computer won't have to suffer much longer. At a press event in the Thom Thom Club, a Santa Monica, Calif., nightclub owned by Interscope-Geffen-A&M Records chairman Jimmy Iovine, HP introduced the Envy 15 Beats by Dr. Dre laptop, which has been tweaked for what HP calls "a new benchmark in sound quality."
A digital audio signal processor in the laptop has been programmed with an audio processing algorithm chosen after consultation with famed music producers Dr. Dre, Will.i.am, Timbaland, Polow Da Don, and Pharrell. According to an Interscope exec who introduced Iovine, "This isn't some audiophile's vision of sound through an oscilloscope. This is sound you can feel."
The Beats processing can be switched on and off by using the Control-B command. There are processing modes for full-size headphones such as Beats by Dr. Dre, and for earbuds. (The laptop's own speakers, though, are the usual feeble mini-transducers.) The Beats processing is included in all HP Envy laptops, but only the Envy 15 Beats carries the Beats by Dr. Dre logo—both on the top and, in an inspired bit of styling, on the B key. The Envy 15 Beats also includes a pair of Beats by Dr. Dre headphones, and comes pre-loaded with Traktor LE DJ software and an Audio 2 DJ audio interface.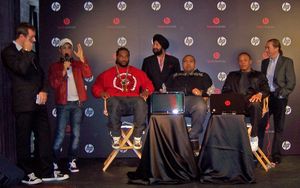 "Every producer in the industry wants this," Iovine said, referring to the laptop's purportedly advanced sound quality. Iovine (holding the mic in the photo) appeared along with Polow Da Don, Timbaland, and Dr. Dre (seated left to right in the photo).
An HP representative provided a more thorough technical tour. "We went through the entire audio system to get rid of the line noise that you hear with most laptops," he said. "Then we put in a very compact amplifier that has plenty of power to drive a good pair of headphones. But the key to it is the DSP, which we tuned based on the input of the artists. We didn't just crank up the bass like a lot of people do. This is artists listening, not sound engineers with oscilloscopes."
Tunes played through the excellent Beats headphones sounded exceptionally powerful even to this oscilloscope-owning dork. The bass really kicked, but didn't sound artificially boosted. I couldn't tell much about the midrange and treble, though, because of the leakage from the blasting P.A. system in the next room.
The computer starts at $2,299 and features a 15.6-inch LED-backlit screen, a magnesium chassis, and an Intel Core i7 mobile processor. It will be available beginning October 22.—Brent Butterworth
LATEST VIDEO