How to Stream PBS Programming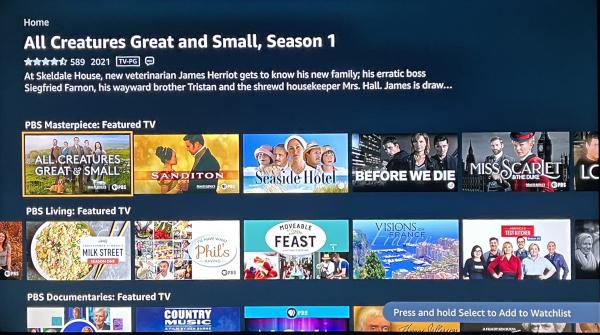 PBS (Public Broadcasting Service) has long produced high-quality content that has aired on its member-supported network. The PBS app launched in 2015, offering both free and premium video-on-demand programming. In the past couple of years, PBS has added niche programming channels— PBS Masterpiece, PBS Living, PBS Documentaries, and PBS KIDS—that offer a deep dive into the different genres of shows that air on PBS stations. Having just reviewed discovery+ documentaries and non-fiction programming, I was curious about what PBS had to offer.
The PBS app is available on most devices. A handful of shows are free to stream. Also, you can stream a Live PBS TV broadcast in the app. PBS Passport, the PBS premium tier, isn't a subscription service per se. It's actually a member benefit intended to grow support for local PBS stations.
Members who donate at least $60 a year or have an ongoing monthly gift of $5 or more per month can receive PBS Passport benefits that unlock all of the programming in the PBS app. Find your local station to give a donation and you'll receive an activation code. On Apple TV, be sure your Passport account is the same as the PBS app login.
While it's free to watch episodes 5 and 6 of the new Masterpiece Theater six-part mystery, Miss Scarlett and the Duke starring Kate Phillips (Peaky Blinders), you'll need a PBS Passport to watch the first four episodes. Like Driving While Black film by Gretchen Sorin and Ric Burns, many specials are also free.
Several award-winning shows are available with Passport, including the Ken Burns collection and 48 seasons of NOVA. PBS Passport content may vary by location as it is tied to your local PBS station's programming (for example, I receive shows that are produced by OPB (Oregon Public Broadcasting). PBS KIDS programming is not available in the PBS app.
If you want PBS Kids, or you are a fan of a specific type of PBS programming, you can take a deep dive into the genre by subscribing to one of the PBS Channels— PBS Masterpiece, PBS Living, PBS Documentaries, and PBS KIDS— through Amazon Prime Video. Subscriptions to these channels generate revenue that goes to PBS to invest in more content and to support the local public stations.
A PBS Channels subscription does not give you access to Passport-exclusive videos on PBS.org or the app. While there may be some of the same videos on both the PBS Apps and on the channels. Both services are separate.
Once you subscribe to a channel, a row of the most popular shows from that channel appears in the Amazon Prime Video Home screen below Your Channels' row.
PBS Masterpiece (Theater) runs $6 per month. Classic shows including All Creatures Great and Small , and Seaside Hotel, and new shows like Miss Scarlett and the Duke are just a few of the dramatic series available. The channel also includes stories like Prince Philip: The Plot to Make a King, and other British shows —Secrets of Iconic British Estates, Secrets of Britain and more.
PBS Documentaries is $4 per month and includes many Emmy-nominated (48 nominations in 2020) documentaries. Ken Burns documentary series' full collection is available from Country Music and Jazz to Mark Twain, Lewis and Clark, Vietnam War, The Dust Bowl, Baseball, Frank Lloyd Wright, and more. There are also scientific and societal docs. I was captivated by a NOVA entitled Cat and Dog Tales that explored our connection with the animals and a short program about feeding the people who work in Antarctica.
PBS Living is $3 per month. The PBS Living channel is also available for subscription through the Apple TV app. The channel features series Antiques Roadshow, Genealogy Roadshow and Finding Your Roots and new favorites like Christopher Kimball's Milk Street and travel shows including No Passport Required. Art 21 conducts in-depth profiles and behind-the-scene footage following artists in the 21st century. This Old House The Great British Baking Show,Moveable Feast, and ten seasons of The French Chef with Julia Child are some of the other titles streaming on PBS Living.
The PBS Kids Channel is also available on Amazon Prime Video for $5 per month. Classics Sesame Street, Mister Rogers' Neighborhood, Clifford, The Big Red Dog and Arnold are offered along with new educational programming.
Note that you can get a 7-day free trial for each of the PBS Channels. As Passport is a member benefit, you can not get a free trial for its premium content on the PBS app.