Hitachi Ultravision L46S603 46-inch LCD HDTV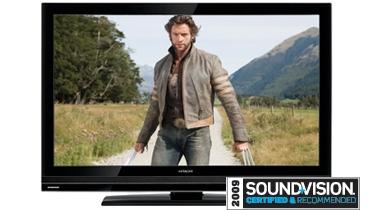 Key Features
$1,299 Hitachi.us/tv
• 5 HDMI inputs • Reel120 Motion 120-Hz processing • Lockable Pro-Day/Pro-Night picture modes • HDMI-CEC control • 5-component universal remote • Swivel pedestal base • Inputs: (5) HDMI, (2) component-, (2) composite-/ S-video, stereo audio, RGB PC with miniplug audio, RF antenna/cable, USB • Outputs: Analog stereo audio, optical digital audio, miniplug headphone • Dimensions + Weight 443?8 x 301?2 x 123?16; 56 lb (with stand)
After taking a surprise break from the U.S. flat-panel TV market in 2008, Hitachi has returned with a retooled lineup, including the 46-inch L46S603 LCD model reviewed here. Where the brand once stood for high performance at a premium price, this LCD from its top-end Ultravision series has a very competitive $1,299 list. As I uncrated it in my studio, I wondered: Could Hitachi still deliver the goods in this highly affordable package?
My first impressions were positive. With its high-gloss black frame accented by a gray front-facing speaker grille, the L46S603 struck a stylish pose. Hitachi also provides a matching black base that swivels.
This set has a wealth of inputs, including five HDMI, two component-, and two composite-/S-video jacks. There's also an RGB computer input and a USB port that boots up a JPEG viewer upon detecting a flash drive. Both are located (along with two of the HDMI jacks and a composite-video input) on a side-facing jack pack where they will be accessible even when the TV is wall-mounted. What's absent here is an Ethernet port - unlike some new HDTVs, this one can't stream content from the Internet. Hardly a deal breaker, but worth noting.
I liked the supplied remote control, a universal model that can control up to four additional components. The most heavily used buttons and rockers all orbit the centrally placed navigation keys. I'd have preferred some backlighting and a more prominent button for switching inputs, but once I learned the layout, I found the remote easy to use in the dark. The Aspect button cycles through a wide selection of display modes for HD signals, including Auto, 4:3, 16:9, Full (a "pixel-for-pixel" mode with no overscan), and a couple of Zoom modes.
SETUP
The L46S603's picture presets include Dynamic (the hyperbright default mode), Standard, Movie, Game, and Custom. Movie looked the best of all the presets, though installers will appreciate two additional modes, labeled Pro-Day and Pro-Night, both of which can be independently adjusted for each source. These may only be altered after unlocking them with a 4-digit code set by the owner or installer, and they offer two selections not available in the other modes: a Blue Only option for setting color and tint with a test pattern, and White Balance controls for calibrating color temperature (a procedure that requires test instruments).
I used Pro-Night, a mode that delivered similar picture quality to the Movie preset, for my adjustments. Out of the box, the set's color temperature measured close to the industrystandard 6,500 K with Pro-Night selected, but it grew steadily bluer as the image got darker (see Test Bench). Using the White Balance adjustments, I was able to tune this to where the grayscale remained accurate through most of the brightness range - a big improvement.

Among the Hitachi's other settings were a three-position Gamma control that I placed in the Gamma 1 setting to maximize shadow detail and a Dynamic Gamma control that ultimately did more harm than good and was left off. Of its two noise-reduction options, MPEG NR noticeably softened images. But the standard Noise Reduction control proved extremely effective at reducing random video noise, and there was virtually no sacrifice in detail even with it set to High, so I tapped it with giddy abandon when watching standard-definition TV programs.
One other setting that I turned on was Auto Movie, which activates 3:2 pulldown for viewing film-based programs. The set's Reel120 Motion option was great at smoothing the action of fast-moving objects and improving their clarity. But like I've seen on other 120-Hz TVs, it tended to make movies look like they were shot on video, although at its Low setting Hitachi's version was subtler than most.
LATEST VIDEO