Hitachi P50X902 50-inch plasma HDTV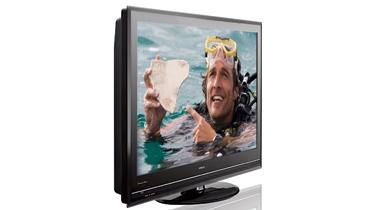 The Short Form
$3,200 ($3,695 list) / HITACHI.US / 800-448-2244
Snapshot
It's not a Kuro-beater, but Hitachi's new top-end plasma delivers an impressive picture and some great features
Plus
• Accurate out-of-box color reproduction • User-friendly menus and remote control • Extensive video adjustments • Cool motorized swivel base
Minus
• Just-average standard-def upconversion • Pricey for a 50-inch plasma
Key Features
• 1,920 x 1,080-pixel resolution • (3) HDMI 1.3 ports • Cinema 48 and Reel 60 film modes • TV Guide On Screen program listings • Motorized swivel stand • Backlit universal remote with macro function • Inputs: (3) HDMI, (2) component-video, (1) composite-video, and (1) S-video; • 48 x 34 x 14 ½ in, 108 ½ lb (with stand)
Some contend that LCD flat-panel sets will inherit the HDTV universe, thanks to their manufacturing and energy efficiencies. But the truth is that plasma TVs are enjoying a renaissance, in part because of Pioneer and its much-decorated Kuro models. However, other companies - including Panasonic, Samsung, and Hitachi - also continue to address the demand for plasma's deep blacks and pure, phosphor-based color reproduction.
Hitachi's P50X902, a 50-inch set from its high-end Director Series, is a prime example of the new breed. Its translucent beveled edge stands out from the competition's typical gloss-black frame, and the 3?4-inch-high matte-black grille that runs across the bottom to hide the speakers provides even more visual interest. The oval-shaped base houses a motorized pivot that swivels the TV 30° in either direction.
Meanwhile, the Hitachi's backlit learning remote is the first wand I've seen supplied with a TV that can perform 10-step macros, which makes switching sources for the TV a one-touch operation. Aspect-ratio settings for HD signals include a bit-for-bit mode with no overscan and several 16:9 and 4:3 zoom modes that let you adjust the image position up or down.
SETUP
The P50X902 has a solid mix of inputs, including three HDMI ports with Deep Color support (one in the left-side jack pack), an RS-232C control connection, and a slot for an SD card that can be loaded with photos and accessed from the input menu. It also has an IR output to be used with the built-in TV Guide On Screen program listings or as an IR pass-through to operate other components.
When you first turn on the set, you get an unusual Energy Saver menu that asks you to select a power mode depending on whether the TV is being used at home or in a retail store. The Retail setting is a "torch mode," intended to make the set stand out on a crowded sales floor, while the Home option sets the brightness to a more natural level. Color (including the set's white balance) noticeably improved when I selected the Night mode, one of three picture presets - the others being Day and Dynamic. (Each preset can independently store picture adjustments for any input.)
The Hitachi's menu system is attractive and engaging, and it's full of useful video tweaks. Among the more interesting was Color Management, which lets you use an onscreen honeycomb grid to adjust the gain (brightness) and phase (tint) of all the primary and secondary colors. An unusual Color Decoding menu allows the red and green balance to be easily adjusted either to taste or to a test DVD's color-decoder pattern without having to look through red and green gel filters. There are four color-temperature settings (High, Medium, Standard, and D.Cinema), and a full set of "cuts and gains" adjustments for tweaking color temperature with appropriate test instruments.
LATEST VIDEO