Hitachi 46F510 46-inch HDTV Monitor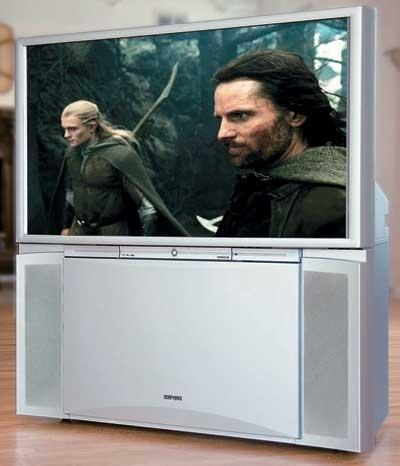 While HDTVs are a lot cheaper now than they were a few years back, the options are still limited if you're looking to score a high-def model for not too much cash. You can get a hefty direct-view tube TV for less than $1,000, but the screen size on that baby is likely to be only 30 inches or less - too small if you want an engaging home theater experience. Moving up into the $1,000 to $2,000 range, you'll find sets like Hitachi 's 46F510 rear-projection TV (RPTV). With a big 46-inch screen and loads of videophile-friendly features, it just might be your ticket to the world of wide-screen DVDs and high-definition television. At $1,700, the price is certainly right.
Fast Facts
DIMENSIONS (WxHxD) 44 1/2 x 45 1/2 x 26 1/2 inches WEIGHT 160 pounds PRICE $1,700 MANUFACTURER Hitachi, hitachi.us/tv, 800-448-2244
Key Features
• 46-inch (diagonal) 16:9 screen • Color Management/Color Decoder adjustments • Magic Focus automatic convergence • Day/Night custom picture memories for each input • front inputs composite- and S-video with stereo audio • rear inputs DVI, 2 wideband component video, 2 composite/S-video, all with stereo audio; 2 analog antenna/cable • rear outputs composite- and S-video with stereo audio; separate line-level stereo audio
Viewed head-on, the Hitachi has a simple, understated look. There's a little too much silver for my taste, but it's likely to match any late-model A/V gear. No memory-card slots or other "multimedia" frills adorn its front panel - only a glowing red power button and a flip-up door concealing controls for such basic functions as channel/input selection and menu navigation. There's also a Magic Focus button that activates the set's automatic tube convergence system.
The Hitachi has a serviceable jack pack, including two sets of component-video connections and a DVI (Digital Visual Interface) input. You can't easily use video sources with all three, however, because the DVI port and one of the component connections feed the same Input 1, with DVI taking precedence. Also, the dual antenna jacks handle only analog broadcasts and cable-TV signals, so you'll need a separate HDTV tuner if you want to pull in your local digital TV channels.
LATEST VIDEO