Hitachi 42HDT51 42-inch Plasma HDTV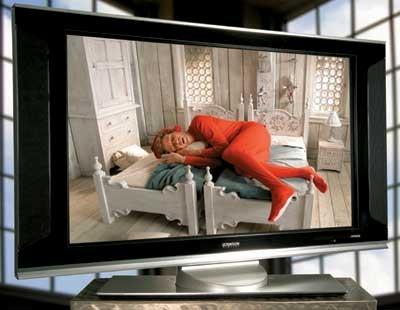 With LCD TVs nipping at their heels, plasma sets have quickly abandoned their industrial heritage and evolved to become a user-friendly centerpiece for your home theater. Basically, they've grown bigger - screen sizes will soon hit 70 inches - and accrued tons of cool features. At $7,000 list (you're likely to find it selling for up to two grand less), Hitachi 's 42HDT51 isn't the most affordable plasma HDTV out there in its size range, but it sure does come loaded.
Fast Facts
DIMENSIONS 46 7/8 inches wide, 26 1/4 inches high, 4 inches deep WEIGHT 76 pounds PRICE $7,000 MANUFACTURER Hitachi, hitachi.us/tv, 800-448-2244
Key Features
• Swiveling table stand • Digital cable ready with CableCARD slot • Built-in HDTV tuner • front inputs composite/S-video with stereo audio; USB • rear inputs CableCARD; RGB, 2 HDMI, 2 FireWire, 2 composite/S-video, and 2 component-video, all with stereo audio; 2 digital/analog antenna/cable; RS-232 port • rear outputs composite/S-video with stereo audio; optical digital audio
Topping its feature list is a motorized, remote-controlled stand that swivels left and right. This can prove very handy if you set it up in a home gym or some other sofa-less environment. But Hitachi 's plasma also comes with plentiful picture-setup and -enhancement features and just about any type of connector you could want. And with a built-in HDTV tuner that handles both over-the-air broadcasts as well as digital cable, it lets you watch high-def programs right out the box.
The Hitachi 's high-tech looks are another distinguishing point, as you can see from our photo. A two-piece system, the TV comes with a matching A/V switchbox that connects to the display panel with a supplied 10-foot cable.
Front-panel controls on the switchbox include volume, channel, and input selection. Beneath a flip-up panel there's also a button to get into the set's menus, along with a quick-connect A/V input for camcorders and a USB port for plugging in a digital camera. The back panel offers an up-to-date bundle of connectors, including dual HDMI and FireWire ports (see "key features"). The HDMI inputs are an especially nice touch since they let you digitally connect both a DVD player and an external satellite or cable box.
LATEST VIDEO