History Meets High-Tech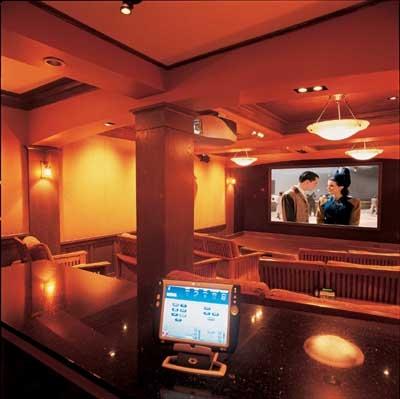 Jarring juxtapositions of technology and design might work for the sets in a Tim Burton movie, but they usually don't for someone's home. Many custom installers find that adding high-tech gear to an older house with a well-defined architectural style can be daunting because the technology can clash with or overpower the traditional design.
That was just one of the challenges facing John Baumeister - president of Baumeister Electronic Architects in Niles, Illinois - when he was asked to install a home theater in the basement of an expansive Arts & Crafts home in Glencoe, a North Shore suburb of Chicago. But he was prepared for it, since he had installed an elaborate audio/video system in the same house six years earlier. He was less prepared for the sight that greeted him when he arrived: the substantial house was now perched precariously on stilts.
"It was essentially being supported by scaffolding, and there was a bulldozer literally under the house, excavating," Baumeister recalls. Because building codes prevented the owners from expanding out, they decided to dig down to make room for a dedicated home theater, game room, and wine cellar.
The house, which was originally a two-bedroom summer cottage, had undergone several renovations throughout its history, resulting in a rambling design that Baumeister calls "Escher-esque." It was set up as a mother/daughter home when the current owners - Matt, a business consultant, and Erin, his aerospace-engineer wife - bought the property. They've since done extensive work to rid the house of its disparate architectural styles, slowly returning it to its Arts & Crafts roots. So it's not surprising that Baumeister's team worked closely not only with Matt and Erin, but with their architect/design firm, Stephen Knutson Design of Evanston, Illinois.
For the installation six years ago, Baumeister's main objectives were to install a whole-house A/V system and to give the owners control over the lights, the heating and cooling system, the phones, and the computer network. Using freestanding Crestron 1500- and 1700-series touchpanels and in-wall CT1000 touchpads throughout the house gave the owners the control they wanted, with four zones of heating and cooling, extensive light controls, and the ability to select any audio or video source from almost every room. Three Elan 660 amps power the whole-house audio system, while video goes through a switcher via Cat-5 cables to the various rooms. And because the basement foundation was being poured while his crew was working in the house, Baumeister was able to lay conduit in the concrete and run extra pipes and wiring that made installing the basement home theater less arduous.
SUBTERRANEAN BLUES
The four-year span between the basement's construction and the start of the home theater gave the home­owners ample time to consider what they wanted. "Both my wife and I are comfortable with technology, but we don't have electronics just for the sake of having them," Matt explains. "We want to use what we put in, and we really appreciate the convenience features that come with high-tech gear." He mentions the Crestron lighting system as an example. "We have about 150 light switches in the house - and having kids means that at any given time, a lot of the lights are on. I can't tell you how great it is to be able to hit the Night Time setting on the touchpanel in my bedroom and turn off all the lights."
LATEST VIDEO