Hifiman HE1000 Headphone Review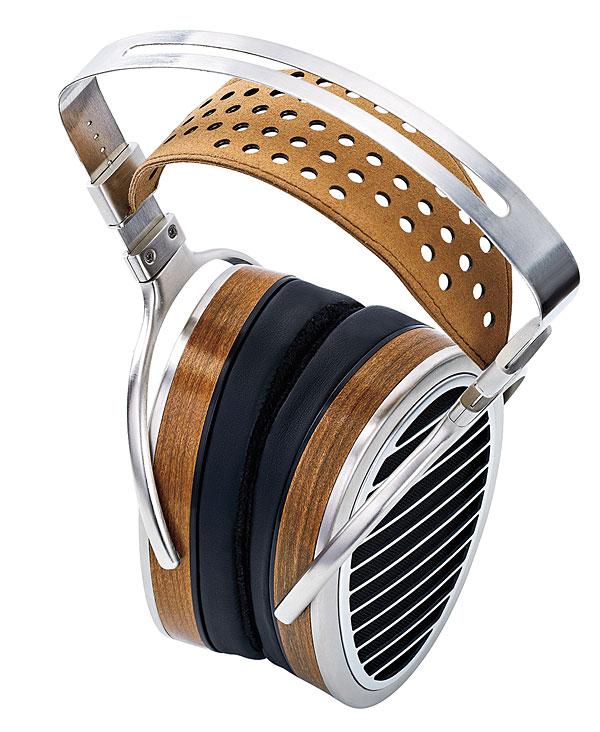 PRICE
$2,999
AT A GLANCE
Plus
Luxurious design
Extraordinarily spacious sound
Advanced nano-thin planar magnetic drivers
Minus
A big, definitely not-so-portable headphone
Crazy expensive
THE VERDICT
The HiFiman HE1000 is pricey, but it sounds so clear and open other headphones sound dull and drab by comparison.
What? $2,999 for headphones? Can they be worth it? Yes, and yes. It's not just that the Hifiman HE1000 sounds more transparent, spacious, and dynamic than other headphones: With the HE1000, music arrives more intact—there's more there there.
The Hifiman HE1000's open quality makes you realize not all open-back headphones sound equally open. You don't have to be an engineer to understand why: Just look at the HE1000 ear cups' thin horizontal blades that minimize reflections to a remarkable degree and expose most of the back surface of the diaphragm to the air. That's in stark contrast to other open-backs' perforated grilles that reflect some of the drivers' sound back onto the drivers. The HE1000's ultra-thin (less than 0.001 mm thick) drivers encounter no such interference, so they're free to unleash a huge soundstage.
The ear cups are unusually large at 5.2 inches high and 3.9 inches wide. The size is a byproduct of the HE1000's ear-shaped planar magnetic drivers that project sound over a larger area of your outer ears than the round or rectangular diaphragms on other full-size headphones. Ear-clamping pressure is commendably light, and the leather headband distributes the HE1000's weight of just over 1 pound over a large area of your head. So the HE1000 isn't the least bit fatiguing to wear for extended periods of time.
A lot of hand labor goes into building an HE1000 from beautifully finished steel, aluminum, real cherry wood, and leather. When you hold this headphone in your hands, you feel the quality of the design. The warranty runs three years, considerably longer protection than what you get with most high-end headphones.
The HE1000 comes packed in a handsome tan leather-wrapped storage box; packed inside, you'll also find three sets of copper/silver cables, two 9.5-foot-long cables, one fitted with a ¼-inch plug, the other cable with a four-pin XLR plug for use with balanced headphone amps. The third cable is 57 inches long, and it's terminated with a 1/8-inch mini plug for use with portable music players or desktop use.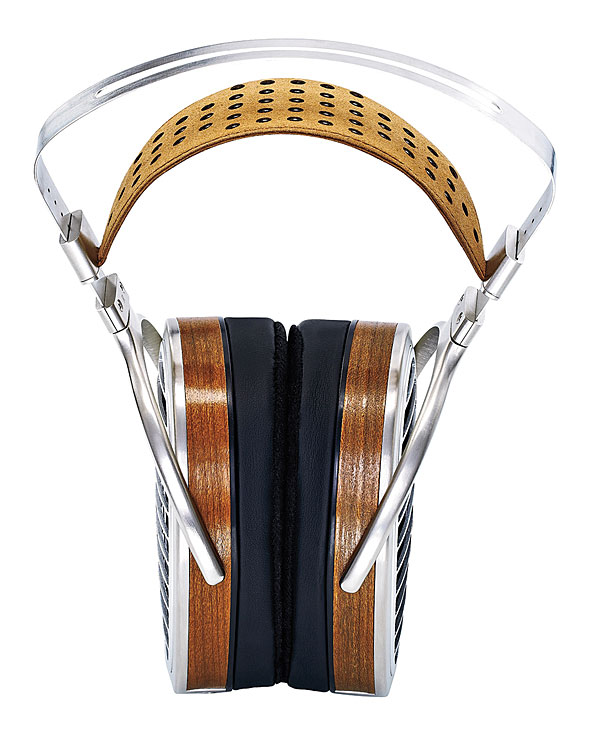 Directly comparing the sound of the HE1000 with an Audeze LCD-X open-back planar magnetic headphone was a fascinating exercise. The LCD-X is an awfully good headphone, but it sounded smaller, dimensionally flatter, and more opaque with a 192-kHz/24 bit hi-res FLAC file of David Chesky's new orchestral work, Joy and Sorrow. The HE1000 presents a clearer window to the sound. Bass slam, dynamics, definition, and texture are stunning; you hear deep into the bottom end of your recordings with rare precision. The HE1000's highs are supremely sweet, airy, and hyperextended, which seems to play a role in liberating the soundstage from the ear cups.
Listen to John Coltrane's Ballads album, and start with the last cut, "Nancy (With the Laughing Face)," and you can feel the presence of Coltrane's sax. That little bit of extra reverb just before he moves in closer to the mic raised the hairs on the back of my neck, because I felt his sax getting closer to me!
I used a bunch of headphone amplifiers over the course of this review—Oppo HA-1, Hifiman EF-6, and Vinnie Rossi LIO—and heard great sounds with all of them at home. Listening to vinyl through the LIO with the balanced cable topped the list; with its spacious sound and delicious tonality, the HE1000 melted away, and I was one with the music.
On the go, I used Astell & Kern's new AK Jr music player, but Hifiman's uber player, the HM-901s+, is the best-sounding portable music player I've heard to date.
If the $2,999 HE1000 is a bit out of reach, no worries. Just as I was finishing this review, Hifiman announced their next planar magnetic headphone, the HE400S, which will retail for $299.
Specs
Type: Over-the-ear
Driver: Planar Magnetic
Impedance: 35 ohms
Sensitivity: 90 dB/1mW
Weight (Ounces): 16.9