Hidden Figures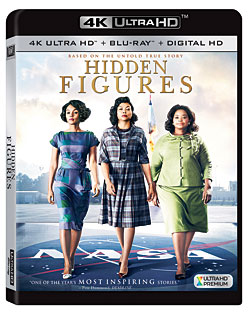 The 2.39:1 image was captured on film and has a range of different looks, some stable and crisp in 4K, which is a boon to the text and numbers frequently on display. Other times, it's grainy and soft, to simulate vintage footage, although some of the transitions are slightly jarring. Through a combination of elaborate props and CGI, the awesome machinery that took America into orbit roars convincingly to life once more. A punchy palette perks up many scenes as well. The benefit of HDR is evident, as when headlights stand out against the night or sunlight reflects off the chrome of the classic automobiles.
This is a drama, albeit one with scenes of rockets blasting off and blowing up, but the DTS-HD Master Audio 7.1-channel soundtrack is about subtle scene-to-scene quality rather than boom and flash. The music by Hans Zimmer, Benjamin Wallfisch, and film producer Pharrell Williams is thoughtfully mixed, the combination of score and songs working well to keep the story moving forward. A church service has a distinctive tone and welcome fullness, and voices are spread across different channels for greater, more lifelike involvement. Dialogue is consistently crystal-clear. Worth noting, I had to crank the volume significantly higher than I do for most discs I demo to achieve proper listening levels.
The sole extra on the 4K disc is an audio commentary with director Theodore Melfi and star Taraji P. Henson. The bundled 2K Blu-ray includes this as well as a making-of, deleted scenes with optional commentary, and a look at the filming locations, all in HD.
Blu-Ray
Studio: Fox, 2016
Aspect Ratio: 2.39:1
Audio Format: DTS-HD Master Audio 7.1
Length: 127 mins.
MPAA Rating: PG
Director: Theodore Melfi
Starring: Taraji P. Henson, Octavia Spencer, Janelle Monáe
Return to a time when "computers" were exceptionally intelligent, hardworking human beings who crunched the daunting numbers needed to advance the space program. Sadly, this was also an era of rampant sexism in this country, as well as deeply rooted racism, especially in the South where the National Aeronautics and Space Administration was headquartered. In 1961, Russian dominance in outer space put NASA at the heart of the Cold War. The fate of the free world, as well as the lives of the brave Mercury astronauts, depended upon accurate calculations of thrust, trajectory, and so on, math often performed with pencils and chalk. Hidden Figures follows three trailblazing ladies—mothers as well as career women—whose brains and perseverance not only laid the foundation for our victory in the space race but also rewrote the rules for what women of color could achieve in the face of seeming insurmountable discrimination.