Hellboy II: The Chat Recap
Don't you wish your life had TiVo? I do. A few weeks ago, we told you all about the first BD-Live chat with the director of Hellboy II: The Golden Army, Guillermo del Toro. The chat, accessible only through Universal Studio's BD-Live server was on November 23. And I missed it. Darn it.
Luckily for me, and you, the folks at Engadget caught it. The 50 preselected questions were sprinkled through a viewing of the movie, and as the director himself said about Blu-ray releases and extras, "the perfect home theater experience."
Keep reading for a link to complete coverage of this ground-breaking event.
The complete Engadget recap is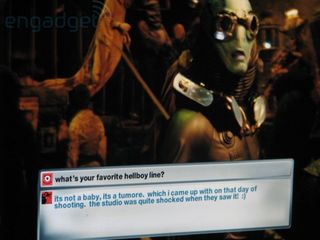 As this was the first event of its kind, I'm willing to cut it some slack. If this is the future of Blu-ray, the future looks bright. — Leslie Shapiro
LATEST VIDEO
WHERE TECHNOLOGY BECOMES ENTERTAINMENT