HDTV Wrap-up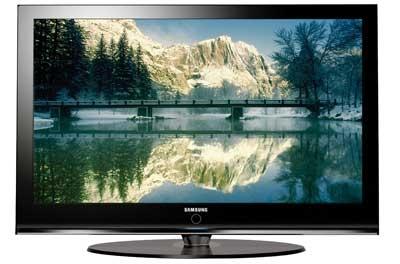 Samsung HP-T5084 50-inch 1080p plasma HDTV
January 11, 2007 - Many aspects of the hi-def television biz on display at CES are downright predictable: Screens get bigger, prices go lower, and prototypes that may or may not ever see the light of day as a functioning products are on display in ample quantities. But one can also usually pick up on a number of trends that offer a window into what's going on behind the scenes. I'll briefly touch on a few that I observed while roaming the densely packed halls of America's largest trade show.
Wall-hugging RPTVs Although the rest of the world never bought into the concept of rear-projection TVs, they've had a long run here in the U.S., where more people have the space to accommodate boxy bigscreen models. But to judge from the array of anemically thin RPTVs on display at this show, set-makers are desperate to shed bulk from the sets - a not too surprising development given the closing price gap between large flat-panel TVs and projection models. Two good examples of the trend toward RPTV anorexia on view at CES were JVC's 58-inch HD-58S998 and 65-inch HD-65S998, with cabinet depths of around 11 inches - about the same as a stand-mounted LCD or plasma TV. These models' level backsides also allow them to fit snugly against a wall where they can better pass themselves off as flat-panel TVs.
Plasma Panoply LCD may have quickly caught up to plasma in the flat-panel wars, but the wide range of plasma models making their debut at CES - many of which provide full 1080p resolution - attests to ongoing strength in that category. Panasonic rolled out its new 58-inch TH-58PZ700U and 50-inch TH-50PZ700U 1080p plasmas, lining them up in an imposing row in their booth alongside the company's current 65- and 103-inch models. No prices were given, but Panasonic plans to ship both sets this summer. The company also displayed a 42-inch prototype 1080p model - the smallest plasma yet to offer that level of resolution. In other 1080p plasma news, Philips displayed a 63-inch model that it plans to sell for a jaw-dropping $3,500. That's not a typo; the company is apparently serious about selling the Ambilight-less 63PFP7422D at that astonishing price. Another affordable 1080p plasma option that we can look forward to is Samsung's 50-inch HP-T5084, which goes on sale in May for about $4,000. And come September the company plans to follow that with a 58-inch model, the HP-T5884 ($5,199).
LEDs, Lasers, and Lightning Fast LCDs Now that LCD is a major player in the bigscreen flat-panel game, set-makers are getting serious about elevating picture performance. Nearly every LCD vendor at the show, including Sony, Samsung, Toshiba, Philips, Panasonic, and JVC, was demonstrating some kind of serious tweak. In most of the cases, the panels' refresh rate is doubled to 120 Hz (the TV's processing performs motion-vector interpolation to fill out the extra frames derived from the incoming 60-Hz video signal) to reduce blur in fast-motion sequences. But some companies are taking the LCD tweaks even further. JVC's "clear motion drive" demo showed how interpolation in both the horizontal and vertical planes can help to reduce motion blur even further. And Samsung demo'd sets that use a technique called "local dimming," in which the backlight is divided into quadrants and dynamically modulated according to picture content.
LATEST VIDEO