Hats Off to Led Zeppelin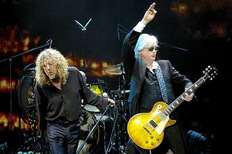 Yes, from all accounts, they pulled it off last night.
Exhibit A: Just look at those photos!
Exhibit B: Ben Ratliff's review in The New York Times and David Fricke's review at Rolling Stone's Rock & Roll Daily.
Exhibit C: The set list:
"Good Times Bad Times"
"Ramble On"
"Black Dog"
"In My Time of Dying"
"For Your Life" (first time ever played live)
"Trampled Underfoot"
"Nobody's Fault but Mine"
"No Quarter"
"Since I've Been Loving You"
"Dazed and Confused"
"Stairway to Heaven"
"The Song Remains the Same"
"Misty Mountain Hop"
"Kashmir"
Encore:
"Whole Lotta Love"
"Rock and Roll"
(By the way, that's every album represented except In Through the Out Door. Hmmm . . . "Carouselambra" would've been nice.)
Exhibit D: Complete songs via cellphone are all over YouTube. Check out this killer "Kashmir." I got goosebumps. From a cellphone. Woops, "Kashmir" and all the other YouTube videos are gone! For an explanation, click here. Sigh, too bad! You must believe me when I say that "Kashmir" was killer.
What else needs to be said? Apparently, there will be an official DVD next year. Until then, and even though I wasn't among the lucky at the O2 Arena, all I can say to Jimmy Page, Robert Plant, John Paul Jones, and (yes!) Jason Bonham is: Thank You. -Ken Richardson
(Photos by Getty)
WHERE TECHNOLOGY BECOMES ENTERTAINMENT