Harry and the Potters
The countdown is truly winding down now - less than 4 hours to go (Eastern time) until the midnight premiere of Film No. 5, Harry Potter and the Order of the Phoenix. And less than 2 hours to go until my wife and son get in line! (Not me, alas. If I go, I'll never be able to wake up and be fresh for things like . . . writing blogs!)
The film's Original Motion-Picture Soundtrack already appeared in stores this morning. Gotta love these track titles: "Dementors in the Underpass," "The Hall of Prophecies," "The Room of Requirements," "The Sacking of Trelawney." Sounds like a Genesis album between Trespass and Nursery Cryme.
Of course, after tomorrow, another countdown continues . . .

. . . until July 21, the publication date of (final) Book No. 7, Harry Potter and the Deathly Hallows. My wife works at a bookstore . . . but no, she won't be getting an "advance" copy. That said, she might just stay at the bookstore until midnight, at which time she'll be allowed to crack open a box of books and read a copy until the store opens at 8 a.m.
Anyway . . .
Film, book - still not enough Harry Potter for you? Then try Harry and the Potters! That would be brothers Joe and Paul DeGeorge, who launched their indie/pop/punk/ progressive duo with the premise: "Let's see if we can convince librarians to let us play rock music in a library." Which is exactly where you can see them, among other types of venues, on their Summer Tour 2007, which began in June and continues through mid-August.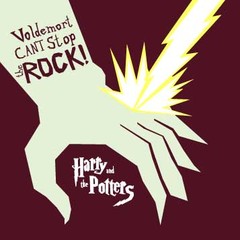 You can also check out their Web site for their releases, including Voldemort Can't Stop the Rock! Gotta love these track titles: "Song for the Death Eaters," "The Dark Lord Lament," "The Fourth Triwizard Champion," "The Missing Arm of Viktor Krum." Sounds like a Genesis album between Nursery Cryme and Foxtrot! Happy premiere, fellow Muggles! -Ken Richardson
LATEST VIDEO