Harman Kardon AVR 330 Digital Surround Receiver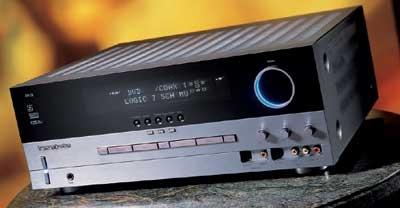 Photos by Tony Cordoza The model numbers for Harman Kardon's latest line of A/V receivers recall those the company used for receivers it introduced some 20 years ago, and I'm betting that's no accident. Back then, HK scored a solid hit with a compact, simple, affordable stereo receiver called the 330C that was modestly powered but provided consistently good sound. Beyond being compact, simple, and affordable, the new 7.1-channel AVR 330 even echoes the ancestral Model 330C's two-toned black-glass styling, which makes it look very cool indeed.
The AVR 330 is relatively free of gimmicks or gizmos, but it does feature HK's EzSet automatic channel-balancing routine. Like most channel-balancing procedures, EzSet sends noise signals sequentially to each main channel, but it calibrates the relative levels automatically using a sound-level sensor that's built into the receiver's remote control. I've had mixed luck with this luxury feature on previous Harman Kardon receivers, but either my technique has improved or the system has been refined, because the AVR 330's routine worked flawlessly. I couldn't have done much better manually.
FAST FACTS
RATED POWER 55 watts x 7 or 65 watts x 2 into 8 ohms with maximum 0.07% THD
DIMENSIONS 17 3/8 inches wide, 6 5/8 inches high, 15 inches deep
WEIGHT 30 5/8 pounds
PRICE $799
MANUFACTURER Harman Kardon, Dept. S&V, 250 Crossways Park Dr., Woodbury, NY 11797; www.harmankardon.com; 800-422-8027
Harman Kardon also endowed the AVR 330 with an unusual degree of setup flexibility. As with most A/V receivers, you can set each input's default for a digital or analog signal and your preferred surround mode. But with the AVR 330, you can also independently assign to each input relative channel levels as well as preferred speaker setup ("small," "large," or "none" and subwoofer on or off). And you can even select different combinations of speakers for each surround mode! Unfortunately, the AVR 330 doesn't copy your initial calibration settings to each input or mode as a starting point, so you have to manually enter channel-trim values into each new combination the first time you select it, or else you'll get the unbalanced, all-channels-zero default. The AVR 330 also has prize-winning bass-management flexibility. You can either choose a crossover frequency for all the main channels together - the options are 40, 60, 80, 100, 120, and 200 Hz - or else select among these options individually for the front left/right, center, and surround channels. And since your crossover choices are part of the Speaker Settings menu, you can even save different arrangements as part of the presets for individual inputs or surround modes.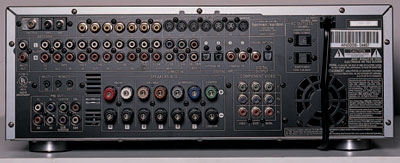 PLUS Generous power, fine sound. Logic 7 processing for 2-channel material is useful option. Extremely flexible speaker/ crossover-setup options. Impressive multiroom facilities for price.
MINUS Remote control could be easier to use, can't learn codes for other brands. Abundance of setup memories could confuse some users. No parameter settings for DPL II.
It's worth noting that the AVR 330's front-panel convenience inputs include both optical and coaxial flavors of digital audio, and its multiroom facilities include the option of diverting the back surround speaker outputs to power remote stereo speakers instead. What's more, a basic remote control for use in a second room is supplied, giving you unusually complete multiroom capabilities for a midprice A/V receiver. Up and running, the Harman Kardon consistently impressed me sonically as a very clean, dynamic receiver. And don't let the comparatively modest seven-channel power ratings mislead you: 55 watts represents only 2.6 dB less potential dynamic output than 100 watts. This was born out by the AVR 330's having no difficulty at all in driving my modest-sensitivity speaker array to movie-theater volumes with convincing authority even on demanding program material.
LATEST VIDEO