Hands On With 5 New iPod Docks
Future historians seeking a thumbnail to represent the early 21st century would do well to select an image of an iPod. More than 200 million iPods have been sold worldwide, and it's a universally recognized symbol of newmillennium technology. Moreover, the iPod's arrival signaled the beginning of the Advanced Personalization of Audio, wherein playlists expanded from tens of songs to thousands.
It's true that sales of the iPod Classic, Nano, and Shuffle have recently started to drop, and that's probably because many people are buying iPhones and iPod Touches instead. But the iPod era is far from over; those products simply update it. It's hard to imagine how many billions of songs reside on various incarnations of Apple's portable player. And who knows how many people at this very moment are listening to music on their iPods and iPhones?
Most of that playback happens on the go and is heard through earphones. But there are also stationary iPods and dock systems with sizeable built-in amplifiers and speakers. These units all take advantage of the 30-pin connector found at the base of most iPods to allow higher-fidelity playback and perks such as battery charging and video output. Moreover, these docks provide a far more elegant and convenient listening solution than the low-tech (and sonically compromised) method of plugging an iPod's headphone output directly into a system's auxiliary input.
There are plenty of iPod dock systems flooding the market, and the turnover of available models comes fast and furious. To get a snapshot of the current state of the art in iPod docks, I assembled five new models and put them through their paces.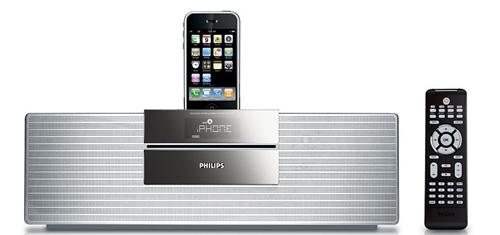 Key Features
$150 Philips.com
• Speakers two 31?2-in woofers, two 3?4-in tweeters • Amplifier 2 x 15 watts • Connections minijack analog and AM and FM antenna inputs, component-video and minijack headphone output • USB port • Dimensions 151?2 x 51?2 x 8 in • Weight 71?3 lb • Compatible With: iPod, iPod mini, iPod nano, iPod with color display, iPod 5th Generation
PHILIPS DCM250
The Philips DCM250 dock has more than the iPod/ iPhone on its mind. In addition to a dock connection, it also features a CD player, an AM/FM radio, an alarm clock, and a USB port for jacking in a non-iPod MP3 player. That's a lot of stuff in a dock that retails for $150. Did I mention that its CD player handles CD-R/ RW, MP3, and WMA discs?
Styling is tidy in a clock-radio sort of way, but frankly, there's some cost-cutting at work here: The chrome plastic buttons, silver grille, and mirrored panel on my review unit all looked a little cut-rate. The sprinkling of control buttons on top is perhaps more than most users will want, but you need to operate all those features somehow. The dock is up there, too, alongside the USB port and an analog minijack input. Oddly, the headphone jack is buried on the dual-ported cabinet's rear panel.
A generous 40 presets are included for the tuner, which also shows Radio Data System information. An equalizer provides four different presets. You can choose any of the sources as the origin for your alarm, and as with all clock radios, there is a sleep timer. On the downside, there's no snooze button - arguably a feature of non-negotiable importance. The remote is amazingly nice for this price point, with crisp styling and a full complement of controls. (This surely came from the Philips parts bin, left over from some other, more expensive, product.)
The DCM250's performance is acceptable, but it has that unmistakably small "clock radio" sound, with a miniature soundstage despite the dock's relatively sizeable width. Bass response is limited, although a bass enhancement feature does add some welcome punch. Treble response is adequately smooth, and the all important midrange is very clean, with a natural vocal sound - a strong plus. Moreover, its surprisingly peppy amplifier can drive the unit to loud levels.
The Philips DCM250 takes clock radios to a new level. Sure, it offers CD playback, but an iPod dock and USB port give it a thoroughly contemporary twist. Although the glitzy styling isn't my cup of tea, it packs quite a punch for $150. Waking up isn't my favorite thing, but if it has to be done, I wouldn't mind waking up to this dock. Well, maybe if it had a snooze button.
LATEST VIDEO