Guitar George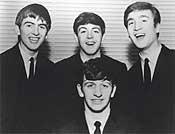 He may not have known all the chords . . . but he knew "a lot more than we knew," as John Lennon said, remembering the day in 1957 when Paul McCartney introduced him to George Harrison. And that was enough for John to agree with Paul that George should join them in the band that would eventually become, with Ringo Starr, the Beatles.
Many of us remember the specific day - February 9, 1964 - when Ed Sullivan introduced the Beatles to America. At that time, George was playing his first "decent" guitars: the Duo Jet and the Country Gentleman, both by Gretsch. The Duo Jet is the same guitar you see here, photographed 23 years later for the artwork of his last solo studio album, Cloud Nine.
George Harrison (1943-2001) has been remembered as a songwriter, a film producer, a Hindu, and a fan of Monty Python. But he began as a guitarist, influenced by Scotty Moore, Chuck Berry, and Carl Perkins. His enthusiasm for the rockabilly picking of Perkins was especially keen. George even wore blue suede shoes.
However, he didn't wear the hat of soloist for many of the Beatles' guitar solos. "You Can't Do That"? That's John. "Good Morning, Good Morning"? That's Paul. Ah, but the "Birthday" riff was written by George, right? No, Paul again. Ah, but the "I Feel Fine" feedback must have been George, right? No, John again. Occasionally, George even allowed others to play the solos on his own songs. That's Paul on "Taxman" and Eric Clapton on "While My Guitar Gently Weeps."

Sometimes, George wanted to play guitar but was edited. On "Please Please Me," he originally played the distinctive descending phrase through the entire song - until an Abbey Road assistant producer said he should play it only "in the gaps." On "Hey Jude," he originally echoed each of Paul's vocal lines - until Paul said no. And guitar parts devised by George were dropped from "I Should Have Known Better" and "Girl." It seems there were times when the nickname "The Fifth Beatle" could have been given to guitarist George Harrison instead of producer George Martin.
"Hey Ken!" you must be shouting right about now. "How about a little respect for the dead!"
It's with the utmost respect for the dead that I lay out all of the above. By clarifying what George didn't play, we get a fresh appreciation for what he did play. And write. Besides, on the subject of somebody else taking the solos on his material, George said: "If it's going to make my song sound better, it doesn't matter to my guitar player's ego." He would also be quick to admit that, at first, guitar playing didn't come easy for him; only by persistent practice did he succeed. And as for songwriting: "I have never thought about myself as someone who writes songs as a craft. Mainly, the object has been to get something out of my system."
Respect? The Python in George would look at us right about now and remind us that, in the presence of giants like John and Paul, he had resolved to think of himself and Ringo as "economy-class Beatles."
Yet he practiced. He got "Something" and many more things out of his system. And the rest of us in economy class are the richer for it.
---
LATEST VIDEO