Guitar George Page 2
He often practiced to the point of perfectionism. For "Baby's in Black," he worked diligently on the opening lick, recording take after take. For "I'm Only Sleeping," he spent six hours on his "backwards" guitar solo. It was actually two solos, one clean and one distorted. And instead of merely recording the solos and then running the tape backwards, George did this for each: 1) wrote a melodic solo, 2) had it transcribed backwards, 3) played it as transcribed, and 4) recorded it with the tape running backwards - so that the solo came out forward again! Got that?
George brought many other innovations to the Beatles and to the rest of pop music: 12-string guitar (which he first recorded for "You Can't Do That"), volume-pedal dynamics ("I Need You"), dissonance ("I Want to Tell You"). And he took a fine song like "Norwegian Wood (This Bird Has Flown)" and made it even finer by adding the first sitar to appear on a pop record.
That was a far cry from 1958, when he and the rest of John's pre-Beatle band, the Quarry Men, recorded "That'll Be the Day" and a McCartney/Harrison song, "In Spite of All the Danger," in a Liverpool living room. You can hear both songs on the Beatles' Anthology 1, and whereas George runs out of ideas for his solo on the first, he makes it all the way through his turn on the second. Not bad for a 15-year-old.
But George's career of solos really began in 1963 with Beatle Album 1, Please Please Me, Track 1, "I Saw Her Standing There." His urgent break is primitive but absolutely right. And over the next few years, George would develop his playing in several styles. He wove acoustic solos with grace ("Till There Was You"). He simply but artfully expanded on a song's main melody ("I Should Have Known Better"). He decorated tracks with inventive fills ("Help!"). And he mastered the art of bubbling under ("Act Naturally").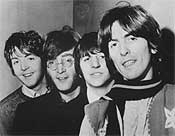 Great stuff all, but two other early solos stand tallest. In "All My Loving," George grabs your attention with four notes and then strums through a 12-second masterpiece. And in "Can't Buy Me Love," his break is as giddy as Paul's vocal. Listen to the version on Anthology 1 for proof that George worked hard on his solos.
Listen to the next stage of the Beatles' development, in 1966 and 1967, for proof that they had a strong hand in the birth of hard rock. Here, George was often playing in tandem with (or in counterpoint to) John or Paul's additional lead guitar. The fierce, nasty, loud results are nothing less than astounding: "Paperback Writer," "Rain," "She Said She Said," "And Your Bird Can Sing." Go forward to 1968 and The Beatles (a.k.a. The White Album) and you get a veritable hard-rock clinic on what used to be, in the days of vinyl, Side 3: "Birthday," "Everybody's Got Something to Hide Except Me and My Monkey," "Helter Skelter." Not that there's anything wrong with the contemporaneous B-side "Revolution." In the midst of these gloriously noisy years, George could still give a track like "Fixing a Hole" some delicate fills, a skipping line, and a precise solo. And he gave a few seconds of acoustic bliss to the start of "Flying."
The final years of the Beatles saw George, after getting back to basics for what would become Let It Be, playing like a painter for the band's true swan song, 1969's Abbey Road. This is indeed guitar art, from the pop figures of "Octopus's Garden" to the chiming lines of "She Came in Through the Bathroom Window," from the grinding multitracking with John on "I Want You (She's So Heavy)" to the guitar battle with Paul and John at "The End." But George's pinnacle as a guitarist is "Something," with its tantalizing refrain and its beautiful solo - the single best solo in his entire recorded canon. Good thing he edited himself here, as he first wrote a countermelody verse before thinking of that solo (check out Anthology 3).
---