As Good As Gold Page 5
Yet the results can be stunning: the Trifield mode, probably the closest thing here to an all-purpose "smart surround" mode, redistributes stereo signals to yield what's claimed to be "a significant improvement over traditional stereo." This mode sounded good with all but the most crudely recorded stereo CDs, and it sounded amazing with good ones. For example, carefully made multitrack studio recordings, like Mark Knopfler's Sailing to Philadelphia, revealed multichannel sound that didn't scream "3-D" yet was more open, detailed, and involving than plain stereo. Live acoustic recordings sounded equally outstanding, but many also yielded arrestingly natural results with the Model 561's Super Stereo mode.
And those are just two of nine principal surround modes. In addition, the Dolby Digital, DTS, and MPEG modes can all be invoked either in "straight" or THX-enhanced guise. Finally, the Model 561 will play CDs carrying MP3 compressed-audio files and even has a surround mode said to be optimized for such material. (I couldn't test how well it works, since I didn't have an MP3-capable CD player with a digital output on hand.)
Users habituated to mass-market A/V receivers with fancy remotes and rococo onscreen displays will initially find the Meridian's user interface a bit spartan, and perhaps quirky, but the day-to-day operation ran smoothly. The Model 561 responded infallibly no matter where the remote was aimed or how it was oriented. The remote's panel is uncrowded, and it makes good use of colors and shapes to differentiate the buttons. Its white-on-black labels are harder to read than "positive" type, but they're generously sized. There's no illumination, though, so using it in a darkened home theater requires working by touch.
My only real ergonomic issue is the lack of any easy way to make temporary, on-the-fly subwoofer level adjustments. (Center- and surround-channel levels appear as preset options, but not sub level. Attenuation for only the LFE channel, which goes to the subwoofer, is available in the 5.1-channel digital modes.) But plenty of other options give evidence of thoughtful design. For example, the implementation of Dolby Digital dynamic-range compression is the most intelligent and flexible I've heard. And the industry-leading implementation of Dolby Pro Logic II is powerfully flexible and exceptionally good-sounding.
The Model 561 offers numerous well-thought-out, user-adjustable parameters for each preset. And you can save any tweaked preset, along with such mundane but important adjuncts as channel levels, as a new preset (with your choice of name) and not overwrite any of the factory settings. Trust me - this is a powerful feature.
I would urge anyone whose interest in multichannel sound runs as much toward music as high-quality movie playback to give the Meridian 561 a thorough audition. I know of no better "audiophile" approach to ambience recovery for stereo music, and its 5.1-channel decoding is better than that from any other A/V receiver or surround processor. If "different" doesn't give you pause, check out the little Meridian 561.
Lexicon MC-1 $5,995 Lexicon, 3 Oak Park, Bedford, MA 01730-1441 www.lexicon.com - 781-280-0300

If you're fascinated by the nuts and bolts of surround sound, if you're absorbed by the trial-and-error process of optimizing it for each program, room, or speaker system, and if you enjoy a robust home theater budget, the Lexicon MC-1 ($5,995) might be the surround preamp/processor for you. The U.S.-made MC-1 is the beneficiary of more than a decade of continual refinement of Lexicon's original groundbreaking surround sound processor/controller, with better DACs and more extensive A/V switching facilities than its immediate predecessor, the DC-2.
With just a handful of pushbuttons, a single knob, and a two-line/16-character display, the MC-1's faceplate is deceptive simple, as is the remote control. The spacious, clear, comfortable to hold and operate handset has relatively few keys, and they're nicely spaced, intelligently located, fully illuminated (in blue), and have a variety of shapes. The price for this pleasing simplicity is relatively "deep" onscreen menus. Ones for the most rarely used setup options can be as many as five levels below the main menu.
The logical menu structure and intuitive options made setup relatively easy, but there are still some unusual choices to be made. For instance, you can choose a crossover point of 40, 80, or 120 Hz for your subwoofer. Better yet, you can independently select a crossover point for the front left/right, center, side surround, and back surround channels. You can also configure each input to a fare thee well, with flexible routing for video and both analog and digital audio signals. For instance, the MC-1's independent Zone 2 stereo output can be used with one of the video record outputs to route a line-level A/V program to a receiver or powered speakers and a TV in a second system.
Experience with earlier Lexicon preamp/processors gave me a good idea what to expect from the MC-1. Even so, its finesse and potential for subtle surround enhancement quickly impressed me. The same can be said for the almost limitless ability of the numerous surround modes, which are split about two to one between ambience synthesis and ambience recovery, to adapt to a user's system, setup, and personal tastes.
The Panorama ambience-recovery mode delivered a spooky realism from concert CDs, such as Lyle Lovett's Live in Texas. And it (along with several other modes) can modify the stereo presentation of bass content via effect parameters like Bass Content and Low Freq Width. Judicious monkeying with these settings brought a track like Lovett's "She's No Lady" right over the top - I could have been there in the club with him and the band.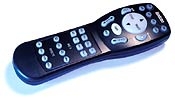 The MC-1 also supplies one of the most extensive ranges of surround processing available for 5.1-channel digital sources. Both Dolby Digital and DTS movie soundtracks, and DTS-encoded music CDs, can be decoded unmodified, with THX processing added, or with either of two closely related (but different-sounding) modes optimized for seven-speaker layouts: 5.1 Logic-7 and 5.1 Music. Each 6.1-channel mode offers a broad range of options and adjustments to deliver smooth, believable envelopment without compromising the clarity and punch of the discrete-channel digital sources. The remote provides direct access keys to each group of surround modes - a convenience I occasionally wished for when using the Meridian processor (the B&K has similar facilities, although fewer choices).
So does the MC-1 have any flaws? Well, it lacks the Reference 30's always-available channel-level trims. (You have to travel into the Effect Adjust submenu to tweak the surround, center, or subwoofer levels.) But you do get Lexicon's nifty Tilt Adjust feature. Buried in the Equalization submenu, this useful, global bass-to-treble balance control, adjustable in 0.2-dB increments, is among my all-time favorite tone controls. More troubling is the lack, as on the Meridian 561, of any way to integrate DVD-Audio or multichannel SACD playback, and the lack of integrated component-video switching. Either feature might be irrelevant to many or most home theater builders, however.
The Lexicon's sonic performance, from two to six channels (or seven speakers), was universally pristine. It merges a large collection of the best ambience-synthesis surround processing modes I know of with a handful of powerfully effective ambience-recovery modes (Panorama, Music Surround, and Music Logic) and an unexcelled set of enhancement options for 5.1-channel digital surround. You can even directly compare two-channel playback with the currently selected surround mode, in case you want to wow your friends and win new converts to high-end surround sound.
In short, if you want the surround processor with the mostest, at least in terms of options and tweakability, the MC-1 is it. It's an undeniably powerful component, with all the potential for operator overload such power entails. Yet it can be set up, calibrated, and enjoyed to great effect while barely scratching the surface of its potential. Many owners may choose to use it this way, but to me that misses the point, since exploring the Lexicon is half the fun.
The B&K Reference 30 is the simplest, most user-friendly, and least expensive of these three preamp/ processors. While it's limited to stereo, Dolby Pro Logic, and Dolby Digital or DTS playback - all that many home theater buffs ever require - its performance in each mode is plainly top-shelf.
The Meridian 561 seems squarely directed at the audio purist whose multichannel ambitions run to music as much as movies. Its film-sound and stereo performance are second to none, and the ambience-recovery options it can bring to bear on existing stereo music recordings are close to ideal - my ideal, anyway.
Lexicon's MC-1 does all of the above with similar finesse in almost every regard - plus a good deal more. Its Panorama and Music Logic ambience-recovery modes are close rivals to Meridian's Trifield and Music modes, while its nearly bottomless well of ambience-synthesis possibilities, via extensively user-adjustable modes like Nightclub and Concert Hall, give it unique power.
Value, of course, is a different matter. These are expensive components, and for that kind of cabbage, you should demand superb sound. These three examples won't disappoint whoever buys one.
LATEST VIDEO