Gone Baby Gone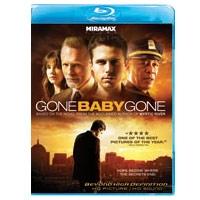 Miramax
---
Movie •••• Picture •••• Sound •••½ Extras •••
Based on the book by Dennis Lehane (whose imagination and Boston roots also shaped Mystic River), Ben Affleck's directorial debut feels as authentic as it is morally challenging and affecting. Anchoring a fine cast that includes Ed Harris, Morgan Freeman, and the Oscar-nominated Amy Ryan, Ben's brother Casey sheds his character-actor reputation and emerges as a thoughtful leading man.
As noted in the commentary and in both of the featurettes here, Ben went to great lengths to get working-class Boston right. The film's opening montage, featuring real-life locals hanging out in their neighborhood, is beautifully done - and it demonstrates the successful marriage of fine cinematography and an exacting Blu-ray Disc transfer. As the focus moves from an American flag in the background to a man smoking on a porch in the foreground, you can see the layers of image detail in the flag, the smoke, and the man's face. In a frame that encompasses both a shingled wall and some dirty gray paint peeling off a fencepost, every crack and shade is visible, with no digital distortion or moiré patterns.
Much of this movie is bathed in shadows - the right artistic choice, given the subject matter of missing children and deep secrets. There's fine detail in the darkness, as well as plenty of separation between black and gray tones. And colors are always realistic, not oversaturated or juiced up.
The uncompressed PCM 5.1-channel soundtrack is alive with lots of dynamics. Casey is something of a low talker, but all of the dialogue (including some tough Boston accents) is crisp, intelligible, and anchored to the onscreen action, where it belongs. Most of the surround sound takes the form of punctuation, rather than sonic sizzle. There's plenty of movement from side to side, just not a whole lot happening in the rear, other than some cues and the occasional effect. This isn't a bad thing, mind you, but worth mentioning for those who love full-on surround-channel action. Perhaps Ben and his sound designer didn't want to detract from what is clearly a story-driven film.
Other than the two short making-of featurettes and the engaging commentary by Ben and co-screenwriter Aaron Stockard, you get five deleted scenes and an extended ending - all of them (as is usually the case) best left out of the finished production. There are no Blu-ray-specific extras.
LATEST VIDEO